Online Income Opportunity
----- Online Income Opportunity -----
My name is Nicole and I'd like to tell you about my fun job and a possible online income opportunity for you.
I am a mum with a nursing background and I have a passion about kid's parties and kid's crafts and games.
I make a living by sharing my passion of kid's parties with people like you who were searching for that knowledge on the Internet.
This is something that I have been doing for 5 years now. When I started I really didn't know what i was doing or how to do it, but I've come a long way since then and now this website is my full time job. I believe that you could do it too even if you know very little about the internet and making money.
How you make Money
The answer is simple.
You build a money making website about something that interests you.
In a nutshell.............
Firstly, you take your knowledge, your experience or hobby (think of things that you enjoy or are good at eg cooking, repairing, organizing, a sport, shopping, traveling etc) and you write it all down in a way that people can understand and would find interesting.
Secondly you put all that written information into a website.
Thirdly you recommend products from other websites to your visitors - products that you really like or approve of and which are related to your topic. Or you recommend websites/businesses that your visitors might find interesting.
If the visitor to your website goes on to buy a particular product that you recommend or to do business with the other websites that you talked about, then you will get paid a commission from those websites as a way of saying 'Thank you' to you.
All these commissions soon add up.
My job is basically this website that you are reading right now.
How to Get Started
I am using an internet company called Site Build It (SBI) who show you how to do EVERYTHING in easy, simple to understand steps.
Thousands of people have successfully used Site Build It - and I promise you that this is NOT an online income opportunity scam or quick money making scheme.
SBI caters for Everyone from absolute beginners right up to the experienced web gurus.
Do you already have a blog? Well find out why blogging is NOT going to make you money.
If you want to know more, I have written a more detailed section about using SBI as an online income opportunity and how it all works.
Or you can click the link below and go straight to their website.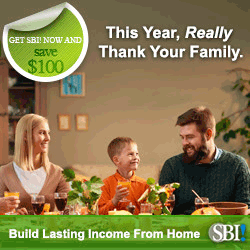 Good Luck!
Return from Online Income Opportunity to Home Page