A cafe party is a perfect theme for a young teenager or for kids who want something a bit more grown up. And don't worry if you can't cook as ready-made meals and takeaways will be just fine for this birthday.
KID'S CAFE PARTY INVITATIONS
Write the invitation on a homemade menu or paint the details on mini chalk boards. Or how about writing them on fancy paper napkins and then placing them in a pretty napkin ring. Your invitations could go something like this:
Invitation
Special of the Day: Carla's 14th Birthday
Place: Cafe Carla
Date:
Opening Times: 6pm - 9pm
Dress: a la carte
Reservation necessary: Tel: 1234565
Have the guests dress in a style appropriate to the sort of cafe/restaurant. So for example:
For a French cafe the kids could wear berets
For a pizza parlor the kids could wear causal
For a smart restaurant the kids could come in skirt/dress for the girls and a tie/bow tie for the boys.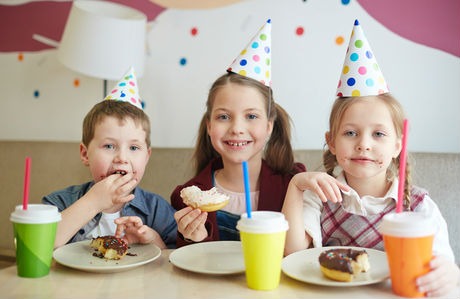 Decorate your cafe party according to the type of cafe or restaurant that you are setting up.
For a Pizza Parlor you could decorate with lots of funky colors and posters.
For a French Cafe you could have French flags and posters topped with French cafe style music or try this elegant and romantic Paris Damask theme.
Think about the seating and table arrangements. Decide whether you want individual tables, one large table or maybe a buffet or even picnic style.
Set up a large chalk board with the menu written on it or prepare individual table menus
If you are not sure what to do, decorate by following a color theme such as black and white or shades of pink.
Remember the music. Again go with what matches the theme or maybe just choose what the kids like. And how about a CD juke box - very cool!
Also don't forget the lighting and the ambiance you want to create: bright and bold for a pizza parlor maybe and subtle and warm for a smart restaurant.
It is nice sometimes to have a few activities for the guests to do especially if there is some time waiting for guests to arrive or food to be served. Here are a couple of popular cafe party activities:
Give each guest a large plain colored napkin and lots of fabric paints. Have fun making their own personalized napkin.
Buy plain wooden napkin rings and have the kids decorate them with stickers and marker pens.
Blindfold the kids and give them a food item to taste. They get a point for guessing what it is. The person with the most points wins
Have the kids guess the ingredients of certain appetizers and from what country they come.
Show the kids a shopping list with at least 20 ingredients on it. Let them study it for 3 minutes then take it away. See who can remember the most items.
Give the kids a variety of ready prepared foods such as raw vegetables, fruits, nuts, crackers and cheese cubes etc. Each kid or team has to create a perfect platter. Give prizes for categories such as "pretties, scariest, funniest, and imaginative" and so on.
In advance show the guests how to fold a serviette into a particular shape. Then see if they can do it by themselves.
Create a menu and then for each item, muddle up the letters. See who can be the first to 'un-muddle' it.
Give the kids a list of items that they need to find in order to lay their restaurant table. Have them rush round the house or garden to find the items and then they need to lay their table. Once done they need to sit down and ring a bell (one of the items). First one to finish and to do it correctly wins.
The cafe party food you serve will obviously be dictated by your restaurant or cafe theme. How about:
American Diner - Burger, fries, shakes and sodas.
French Cafe - Carafes of juice, fancy pastries.
Pizza Parlor - Pizza obviously! salad bar, sodas and milk shakes.
Ice cream Parlor - Ice-cream bar, Knickerbockers glories, fancy ice-creams topped with cream and fruit, build your own ice cream bar.
Smart Restaurant - Canapes, three course meal, fruit cocktails.
Menu Cake - Prepare a square cake using a packet cake mix. Frost with white frosting and then write on the menu with frosting tubes.
CAFE PARTY FAVORS AND PRIZES
If it is a group of young teens, there is no need to go overboard with favors and plus they are a bit more choosy of what they like and don't like. If you want to give a couple of small items then these are good options:
A roll of refrigerator cookie dough for the guests to use at home
Small recipe books
Notepads and pens
Small cup, glass or mug on which you have painted the restaurant name with glass or ceramic paint.
Candies and treats wrapped in cellophane and tied with a ribbon.
Other fun ideas are glow products which are hot right now.
Having the kid's special day at a cafe can be a lot of fun. Let the birthday child give you ideas as to what they think would be awesome to have and go with that idea.