4th of July Party Ideas - independence, freedom, stars and stripes.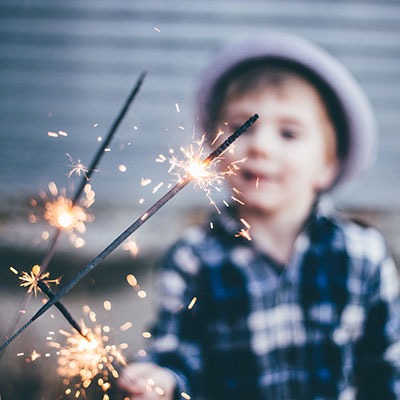 The timing of year is perfect, as the sun is probably shining, flowers are in full bloom and the kids are raring to go now the summer holidays are here.
Coming up with some 4th of July party ideas is probably second nature to some, but for those who need a few simple ideas, then I'm here to help.
So get ready to sit back and savor America's spirit and freedom and to have a cracking good time.
Here are some fun 4th of July party ideas for the invitations you could use.
Uncle Sam Invitation
Using red, blue or white craft paper, put a picture of Uncle Sam on the front with the words "I want you!". Write the details on the reverse. If it is for a birthday as well, you could put a photo of the birthday child on the front and replace the words with "X wants you!".
Instant Fireworks
Using plain black craft card, spread clear-drying glue over it in crisscross pattern. Sprinkle red, white and blue glitter all over the glue. Shake off the excess glitter and you will have a real sparkler of an invite.
Firecracker Invitation
Gather enough empty cardboard rolls (like you get in kitchen towels) so you have one for each invite. Cover the hole on one end with strong paper, glued in place. Paint the whole thing red and when dry stick on some stars or blue and white strips of paper. On the sealed end of the cardboard roll, make a small hole and insert a sparkly pipe cleaner. Place a small piece of orange tinsel on the end on the pipe cleaner to resemble a lit fuse. Next make your invitation, role it up and slot inside the open end of the firecracker.
Well the color theme here has got to be red, white and blue! And the birthday child or host could wear an Uncle Sam hat or costume.
To get the guests looking patriotic, you could hand out some patriotic colored bandannas which are cheap and easy to make using strips of colored cloth. They could also where sunglasses and headbands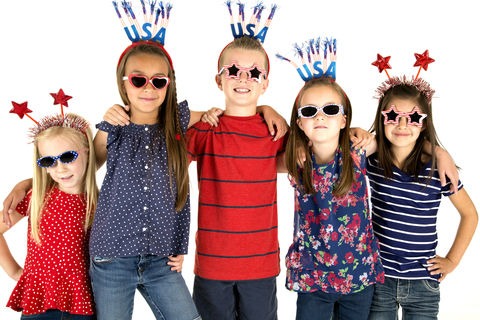 Put red, white and blue balloons on your gate or front door.
Put up a balloon net or have the ceiling covered in red, white and blue, helium filled balloons
Decorate the room with giant posters of previous US presidents. See if the kids can name each president.
Put up lots of red, white and blue bunting, streamers and flags.
Dress your table to impress with lots of fun patriotic table decorations.
Play patriotic songs for kids.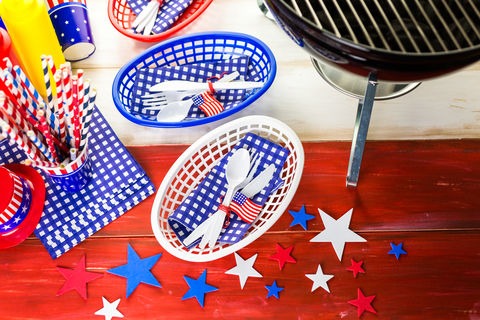 DECOR FOR YOUR 4TH OF JULY PARTY IDEAS
As the weather is likely to be warm, I suggest that you go for outdoor eating such as a barbecue or picnic. Don't go for anything fancy, just good old fashioned, traditional food that is easy to make and gives you time to relax and to have fun.
Corn on the cob
Hamburgers, hot dogs
Barbecued Ribs
Roast marshmallows and s'mores
Loads of cool drinks
Flag Cake Prepare a basic rectangular chocolate cake using a packet cake mix. When cool, cover with white frosting and then decorate with blueberries and strawberries to make a flag design. Keep in the fridge until you are ready to serve and then top with sparklers or thin, extra long taper candles.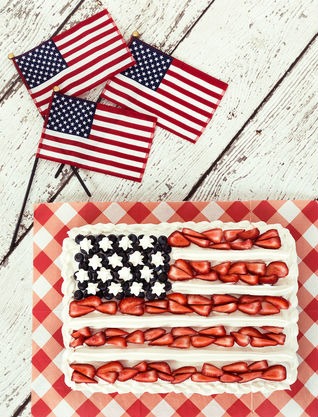 4TH OF JULY PARTY IDEAS FOR FAVORS
Basically anything red, white or blue will be great or anything that has a patriotic feel such as caps with "I love America". Below are some favor ideas to get you going:
Glow in the Dark Patriotic Tattoos
Personalized stars and stripes lollipops
Red white and blue bow tie
Patriotic sunshades
Patriotic Foam Can Covers
Patriotic Lanterns
Patriotic Yo Yo
Red, white and blue shoelaces
Baked cookies wrapped in red cellophane and tied up with a white ribbon
Stars and stripes hair scrunchies or baseball hats
Sparklers for the older kids or paper poppers for the younger ones.