DIY ESCAPE ROOM PARTY IDEA: THE LOST MUMMY
Can you solve the mystery of the Lost Mummy? Or will this tomb become your grave?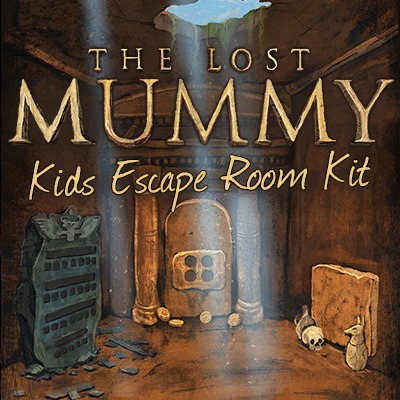 Birthday parties are hard. Kids far outnumber you, and they're easily bored. Finding a way to entertain them all afternoon, year after year, just gets tiring.
Fortunately, a DIY escape room is the perfect way to spice up your party and give kids an experience they will never forget. Plus, if you use a printable escape room kit, they're dead-easy to pull off!
Party invitations can be as simple or as glamorous as you like. For this particular theme you could word your invitations along these lines:
Help!
I, (name of birthday child) have discovered the long-forgotten tomb of an Ancient Egyptian mummy.
This tomb is far too dangerous to navigate alone. Please, come assist my expedition as soon as you possibly can.
Meet me at (location), (time), and make sure to bring (dress-code or other item).
Return my message with your promise of aid ASAP, and I will organise the expedition.
This printable escape room kit also happens to come with a collection of over 30 editable posters and birthday invitations, all ready-to-print. Using PowerPoint you can even customize the invitations to suit your party, and then send them out by print or email!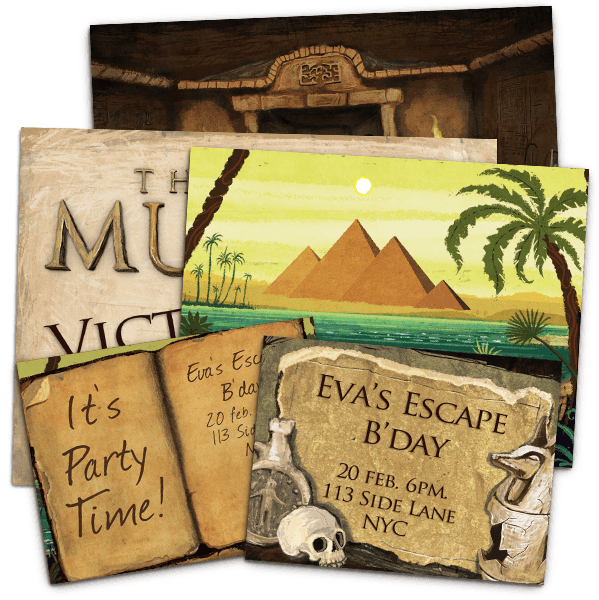 There's absolutely nothing wrong with everyday dress. It makes for a low-stress party, and is still heaps of fun. However, if you wanted to go all-out and dress the part, here are some suggestions for ancient Egyptian-era costumes:
Sit a tea towel on your head and shoulders, fastening it into place with another strip of cloth, or a headband.

Wear gold beads.

Wrap yourself in toilet paper, cloth, or actual bandages and become a mummy!

Don a vest, tank-top, khaki pants or iconic adventurer's hat.

Draw on eyeliner in the same style as the ancient Egyptians.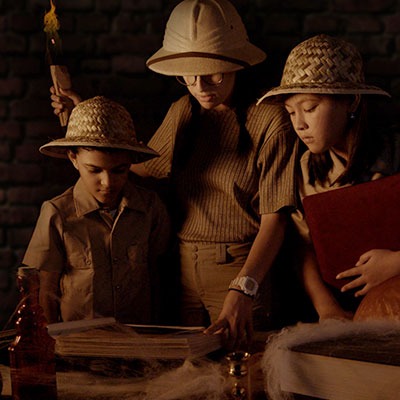 When it comes to DIY escape room parties your imagination is the limit! You could go all-out and transform your entire house into an immersive escape room experience, or you could gather your guests around the kitchen table and hand them their first puzzle sheet. No matter what approach you decide to take, your party guests are guaranteed a great time!
Obviously, the most stress-free way to decorate your house… is not to decorate your house! But for those who want to add that extra something, here are a few ideas:
String spiderwebs

Cardboard cut-outs

Cardboard hieroglyphics - simply paint over a large piece of blank cardboard, and tape it to the wall

Toilet paper bandages

Cheap dollar-store spiders/scorpions can also be scattered around the house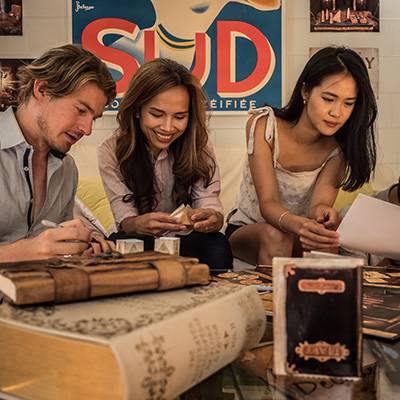 The best part about an escape room party is that the game almost runs itself! Simply read the kids the intro, explain to them the concept of the game, and hand them their first sheet of puzzles (or point them in the right direction, if you decide to hide the puzzles for them to find).
This means that clean-up is also just as easy as picking up scrap pieces of paper. Done!
Read more about how you can run 'The Lost Mummy' for your children here.
Or get inspired for your kids escape room party with this Pinterest board!