A kids crazy hat party theme has got to be one of the easiest kids party themes to arrange.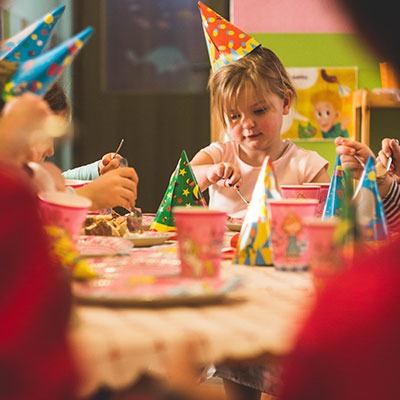 Every household has a hat of some sort and every child loves to use their imagination.
Will they design a wacky hat, psychedelic hat, huge hat, wonky hat, or all of them? It doesn't matter as a crazy hat party is just that - crazy!
This is a super easy kids party theme which is great for boys and girls of all ages from elementary to teens.
So let's get our crazy party planning hats on and let's get going....
KIDS CRAZY HAT PARTY INVITATIONS
Making your hat party invitations couldn't be simpler.
Make a template of any hat that you wish and write the hat party details on it. Here are some instructions for cool paper hats.
Buy plain paper cone hats and write the party details on the outside. Alternatively
Make a homemade cracker (like a Christmas cracker) and inside place a paper party hat along with the party details
Hats off to you as you are invited to a wacky and CRAZY HAT PARTY!
On…
Time…
Place….
So put on your favorite hat and let's have a fantHATsical good time.
RSVP to the Mad Hatter
CRAZY HAT PARTY DECORATIONS
The wonderful thing about a Crazy Hat Party is that you can choose any color theme that you like. The decorations can be as simple or as complicated as you wish but the main thing is to have lots of hats dotted around and used as decoration.
When the kids arrive, for those who don't have a hat, it is nice to have a hat activity going whereby the kids can decorate their own hat.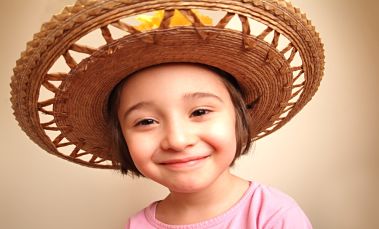 Get hold of some cheap bargain hats at thrift stores or garage sales. Try and have a variety such as baseball hats, straw hats, bowler hats, summer hats and so on.
Also gather together lots of accessories such as scarves, material scraps, badges, feathers, stickers and so on and let the kids use their imagination.
Hang a paper cone hat garland around your front door
Serve popcorn and nibbles in paper hats. You could thread some string through a row of paper hats and suspend them just above the table. Fill the hats with nibbles that the guests can reach.
Choose a color scheme and base all your hat decorations around it. How about black and white or blue and gold?
Hang up a big Personalized Hat Party Banner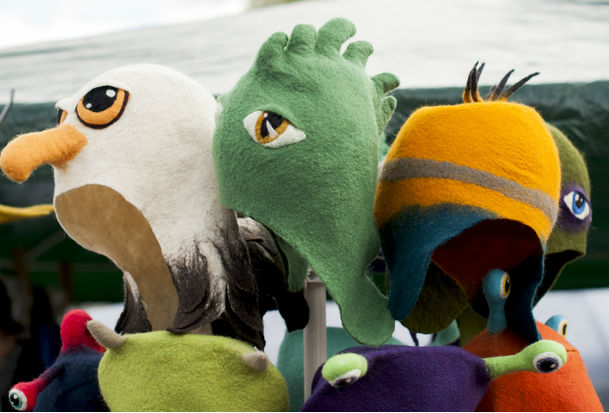 The great thing about a hat party is that you can provide whatever food you like but the key here is the decoration.
Some of my favorite ideas are:
Mad Hatter's tea party with a center piece of a Mad Hatter hat and extra large cups and plates.
Popcorn Hats - Secure a piece of string above the table and attach some paper cone hats filled with colored popcorn.
Bowler Bowls - Place a food bowl in upturned bowler hats or any other hat which balances well.
Summer Meringue Hats - Meringue nests filled with summer fruits.
Ice cream Heads - Place a scoop of ice-cream in a bowl. Make 2 eyes, a nose and mouth with small sweets and top with a wafer ice-cream cone.
Top Hat Cake - Prepare a basic chocolate cake using a packet cake mix. Make one large round cake and 2 smaller round cakes. Sandwich the 2 smaller cakes together with your chosen filling and then place on top of the larger cake. Cover all over with frosting, tie a ribbon round the hat and decorate how you wish.
CRAZY HAT PARTY GAMES & ACTIVITIES
Cap Artist
Give each child a plain colored cap and some fabric paints. Let them use their imagination to design whatever they wish. Do this at the beginning of the party so the paint has time to dry before they go home.
These are the best value design a hat kits that I have found :
Color Me Pop Up Paper Hat Kit (makes 24)
Bucket Hat Craft Kit (makes 12)
Wacky Hats
Gather stacks of pom poms, big buttons, badges, stickers and anything that you can stick. Give each guest a paper hat and have a competition to see who can make the wackiest hat.
As for the party games , well Click Here For Crazy Hat Party Games.
CRAZY HAT PARTY FAVORS & PRIZES
Instead of favor bags, why not use favor hats. You could use paper cone shaped ones as they usually have elastic on which makes a good carrying handle, plus they are cheap. Write the kids names on and stuff with goodies and colored tissue paper.
Favor & prize ideas might include:
Caps and hats of course.
Key rings with hats on
Head scarves and bandannas
Sunglasses to match the hats
Any headgear such as hair pieces, tiaras, crowns, colored hair spray, hair gel