Get ready for an egg-load of Easter party ideas 🙂
Kids often think of Easter as "chocolate time" but if you would rather limit their chocolate fix then I've got crafts, games and lots of goodies to keep them busy.
Got an idea for a themed event? Submit it to our growing list of themes for everyone to enjoy. We would love to hear from you.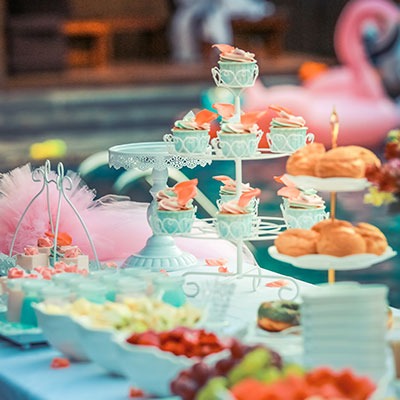 This is the perfect time for getting crafty with egg painting and decorating being a favorite among boys and girls.
The following crafts are designed for them and they are all fairly easy although a few will need some adult supervision.
You will probably have at home most of the bit and pieces needed for these crafts and the finished products looks really great.
More Easter party ideas. Let them make this Bunny Napkin holder as an activity during this holiday.
This bunny craft is perfect for Easter party ideas. The kids can be kept busy making these cute bunny napkin rings and then they can be used at the table.
This bunny napkin holders require only few craft materials and are prefect for all ages.
Skill: Easy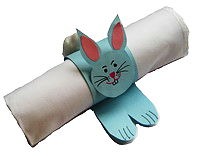 Colored craft paper
Scissors
Marker pens
Glue
Cotton wool ball
Firstly draw and cut out an bunny head shape.
Draw on eyes, mouth, nose, whiskers and attach some pink colored card for the inner portion of the ears.
Cut out a strip of colored card about 10 inches long and 2 inches wide.
One the last 2 inches of your strip draw some bunny feet. Trim off any excess paper around the feet if you want.
Starting from the short edge, roll the strip into a tube along and glue it so that the feet are showing and the napkin ring is big enough to insert your napkin.
Glue on the head and add a cotton wool ball for the tail.
When your bunny napkin holder is fully dry, pop a napkin inside and you'll have a really cute table decoration.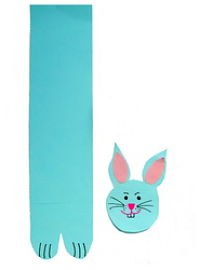 EASTER PARTY IDEAS FOR GAMES
Everyone loves a good game and these games are fun and easy.
Have them try a couple and see how much fun they have.
Egg toss
Hunt the Egg
Where's the Bunny?
Egg bowling
Bingo
Egg Roll
Musical Eggs
Egg Match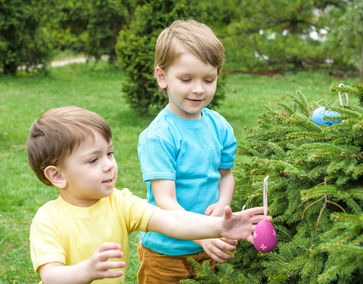 The great thing about an Easter celebration is that they get to take home all the crafts that they have made. This means you don't have to go to town on the favors.
However if you do want to give them some small gift treats then how about:
Soft toy chicks,
Flower making or pressing kits,
Pretty baskets and bags
The bags would be great to take home their crafts that they made.