BABY'S FIRST BIRTHDAY PARTY THEMES
These Baby's First Birthday Party Themes are simple, easy and my absolute favorites.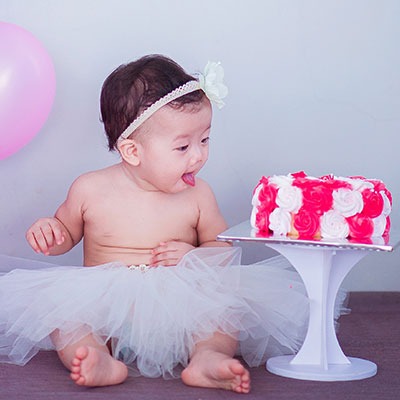 A 1st Birthday theme is in my opinion the most special of all and it really is your chance to show off your gorgeous baby and how he or she has developed and grown.
However, a celebration for a one year old can be quite overwhelming for a small child. All that noise, all those new faces and all that attention can be quite scary. So my advice is to not go overboard and keep it as simple as possible. Keeping it simple means a lot more fun and much less stress.
If this is the first birthday party that you have ever organized you may be feeling a bit anxious but trust me, it's not so hard. You really don't need to do anything fancy as the main attention will be on your child and not on the decorations.
In fact, a lot of these baby shower tips are also applicable to first birthday parties!
Top Tip: Keep the party length to no more than 2 hours maximum and try to fit it around nap and meal times.
Remember your baby is going to have lots of photos taken of him/her so you want to make sure they look as cute as can be. Baby clothes have never been so cute and you have a LOT of choices.
I personally think whatever you feel is your favorite baby outfit is just perfect and to make it extra special, just add an accessory or two such as a pretty hair bow or a special 1st birthday bib.
There really is no need to go overboard with a fancy dress costume. Besides whatever your baby wears, he or she is going to be the star of the show!
BABY'S FIRST BIRTHDAY PARTY INVITATIONS
There are many shops and online stores where you can buy ready made first birthday party invitations but you can save money by making your own and it's not difficult.
Your invitation wording could go something like this:
1st Birthday Invite 
Little X is turning ONE
Let's celebrate and have some fun.
We'll clap and dance and sing and play,
So please join us on this special day.
P.S. Moms and dads can come with you. And don't forget a diaper too!
Here are some ideas on presenting the invitations:
Write the details on a square piece of paper and then fold it just like you would a cloth diaper. Secure with a small safety pin. Simple but cute.
Write the invite on a plain luggage label and tie to the end of a rattle or other small baby item.
Write the details on a plain wooden building block and tie with a ribbon to represent a gift.
Decorate plain card invites with pictures of your baby or images cut out from magazines. Sprinkle with a little glitter and baby talc to give that nice fresh baby smell.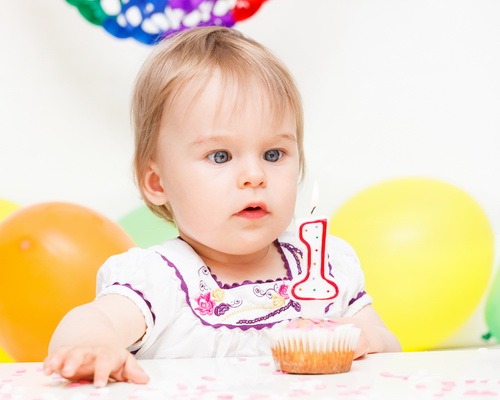 FIRST BIRTHDAY DECORATION IDEAS
Depending on whether you are having a particular first birthday theme, a good choice for decoration ideas would be balloons and streamers. They always go down well with the younger kids but there is no need to over do it.
A special feature could be a Growth Wall whereby you have a frieze with photos of your child from birth to one. You could also highlight milestones such as first tooth, first step, and first word and so on.
Set up a Soft Play Area and also a Quiet Room space for those that will need a nap or some quiet time.
Think about any Siblings who might also be coming and have a play area and suitable toys for the age group.
Make sure you have a clean and safe space for heating up baby food and bottles and plenty of kitchen wipe!
If you would like to add a bit of pizzazz and to highlight it as a "1st birthday theme", then dinnerware to match the theme could be the way to go. Below are some ideas for really cute decorations which will look great in any setting.
Top Tip: Burst balloons are a choking hazard for children and babies. Make sure that you throw away broken balloons straight away. Babies will put anything in their mouths that looks bright and interesting so be on your guard.
FIRST BIRTHDAY FOOD IDEAS
1st birthday food ideas would be mainly for the adults, since one year olds don't eat very much. Therefore cater mainly for the grownups and any older siblings that will be at this special event.
One year olds are also not tidy eaters so make sure you have a dedicated food area and try to avoid too many foods that are 'fun to play with' such as jelly, otherwise you will have a lot of cleaning up to do!
If it is a nice day, it might be an idea to eat outside. Set up a big picnic rug so the kids can eat and move about as they wish. If the weather is cold or wet, you could still set up a picnic area in your house.
Fun first birthday food ideas are:
Cupcakes.
Cheese straws
Bread sticks
Ice cream, fruit mousses, mini yogurts
Shortbread Cookies
Cubes of cheese and fruit
1st Birthday Cake Ideas
For something really simple, prepare a basic cake using a packet cake mix and bake in a shaped tin. When cool, decorate it with frosting and smarties. So simple but so effective!
Top Tip: Some babies will have a mouthful of teeth and others maybe only one or two so make sure you cater for both.
In reality kids under the age of 2 years are not going to be very receptive to playing group games or doing anything that has rules. Plus their attention span is going to be limited and playing a game in a group is a bit daunting for them.
However some simple clapping and singing activities can work really well, especially if the mums and dads join in too. I've put together a list of simple easy and fun games which are perfect for this age group. Click here for my favorite 1st birthday games.
These baby's first birthday party ideas will help make a memorable one that will be always be remembered.