Looking for some Luau Ideas for your Kid's party?
A luau party theme is a popular theme for a kids party. It's fun, festive and just great for those hot summer days.
I've put together some easy, quick but really effective ideas to help you get the party started.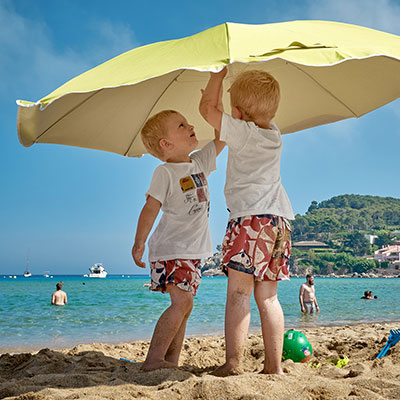 When it comes to Luau Party invitations, just think tropical. So palm trees, shells, tropical flowers, coconuts etc are all good starting points.
You could easily make your own invites by drawing or printing tropical images onto craft card and then writing something like the following :
Invitation
Aloha (child's name)
Are you ready to party?
You are invited to limbo on down at : (Address)
Put flowers in your hair and wear your best "Island Wear" And get ready to hula and limbo, that's if you dare!
Flower Invite
Using colored craft paper, cut out a simple flower shape with several petals on it. On each petal right one part of the party details and then in the middle, put a photo of the birthday child.
Sun Umbrella Invite
Get a piece of colored card and cut to the size of the desired invite. Glue a smaller piece of white craft paper onto the card so that there is a visible colored border all round. Write on the party details then attach a paper drinks umbrella with a bit of sticky tape.
Flip Flop invite
Using strong colored card, cut out a flip flop shape. Write on the party details. Make three holes and thread through some colored ribbon to resemble the flip flop straps. You could also adorn it with some small paper flowers.
KID'S LUAU PARTY IDEAS FOR DRESSING THE ROLL
A big part of the Kid's Luau Party is the dressing up bit! It should be fun, bright and tropical. Imagine grass skirts, flower leis, flower hair accessories, Hawaiian shirts, straw hats, flip flops and sarongs.
A grass skirt is quite easy to make by cutting a piece of elastic to the size of your child's waist and then folding pieces of raffia over the elastic. Once done, trim the raffia at the bottom to make it even.
Ask everyone to come in at least one tropical item and then you can always supply a few extra items for those kids that need a helping hand. For more luau party ideas, when the guests arrive, give each of them a flower necklace/bracelet/anklet/hair decoration for the girls or bandannas for the boys.
You could also find out the kid's names in Hawaiian and issue small name tags – the kids are usually fascinated by this.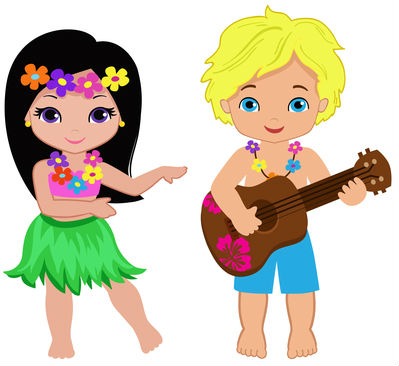 KID'S LUAU PARTY DECORATIONS
The Kid's Luau Party decorations are where you can really go to town. Think bright, flowery, tropical and festive and you can't go wrong. There are heaps of websites selling Luau party supplies however you can also make many of the decorations yourself using cards, glue, paints and a little imagination. Here are more luau party ideas for your decorations.
Raffia Skirting
Place raffia skirting around the main food table or if you can't get hold of any, just use a colorful cloth.
Tiki Torches and Lanterns
If it is an evening party, go overboard with lots of lanterns and tiki torches dotted around the garden or porch.
Towel Seats
Forget chairs, and instead get the kids to sit on beach towels or straw mats when eating.
Wall Decorations
String up netting on the walls and attach paper fish and shells. Paint a beach scene on lining paper and attach to the walls. Also, get down to your local travel agents and ask for posters of tropical islands and even have a few holiday brochures dotted about.
Get Flowery
Put brightly colored flowers everywhere. Make them yourself out of tissue paper to save money. At the entrance to the party, fill a large bowl with water and float some orchids or lilies in it.
Balmy Palms
Erect an inflatable palm tree in one corner of the room. Or save money and make your own palm tree. Ask your local carpet shop for long cardboard carpet rolls and then paint them brown and attach some palm leaves made out of green craft paper.
Table Decorations
Use coconut shells or scooped out pineapples as serving bowls. Serve the drinks in coconut shells or bright plastic cups with a paper umbrella. Dot shells around the tables. If you are a dab hand at napkin folding, make napkins in the shape of a lotus flower.
Music
Get the kids luau party swinging with some topical luau party music.
KID'S LUAU PARTY IDEAS FOR GAMES
For more Luau party ideas here are some luau party games that will be great to play at their luau party.
A limbo contest is a real fun activity for all ages and really gets the party momentum going. You can make your own limbo stick easily out of some wooden poles and a couple of cup screws. Here's how: screw an L shaped cup screw into a pole of soft wood (make 2) making sure that the hooks are at the same height. Dig the poles into the ground or place them in buckets filled with sand or rocks. Place a long thin bamboo garden pole between two hooks and voila, a perfect limbo pole.
A great game and the kids are usually much better at it than the adults.
Lay out enough beach towels for each child, minus one. Put on the music and get the kids to dance around. When the music stops, each child has to quickly lie down on a towel. However the child who doesn't get one is out but can then help you with the music.
Line up some small plastic bottles filled with sand. Give each child a couple of coconuts and see how many bottles they can knock down.
Line up some coconuts and see who can hit them the most times using small water balloons.
Use a blow up beach ball rather than a proper volley ball as they are a bit hard.
To add to your luau party ideas, have a pinata! They are super fun and the kids love them. You can easily make your own pinata.
LUAU PARTY IDEAS FOR FOOD
Kid's luau party ideas will get you thinking of fruit and tropical drinks or if you think that the younger kids might turn their noses up at the idea of fruit, bring in the BBQ. The more exciting the food looks the more it is likely to get eaten. Use empty coconut shells, scooped out melons and pineapples, banana leaves, wicker baskets and plastic sand pails as serving dishes to give a real tropical feel.
Fruity Kebabs. Use seasonal fruits and skewer bite size pieces on sticks. Have a bowl of melted chocolate sauce to dip them in to tempt those who are wary of fruit!
Hawaiian pizza
Snack Buckets. Serve mini snacks in sand buckets with plastic shovels as serving spoons
BBQ Chicken is always popular
Melted Marshmallows. Toast marshmallows on sticks round a camp fire
Fruit Smoothies. Put fruits, plain natural yogurt and a little fruit juice in a blender. Give it a whiz and create a really refreshing smoothie drink. Serve in tall plastic glasses, topped with an umbrella and a glace cherry.
Hawaiian Cocktails. Mix fruit juices with some lemonade in tropical cups or real coconut cups. Top with ice and get cool!
Blue Lagoon. Add a small dash of blue food coloring to a glass of fizzy lemonade. Top with an umbrella and a bendy straw.
Volcano Bombs. Pile scoops of ice-cream on a large platter to form a volcano shape. Drizzle with strawberry and chocolate syrup. You could even set it alight by placing a half egg shell on the top filled with a tablespoon of brandy. Set it alight and watch the kid's faces! (Remove the brandy egg shell after the flames die down…)
Banana Cookies.
Pineapple Cake
Flower Cookies. Make or buy plain cookies and top with sugar flowers
Island Cake. Using a large square tin, prepare a basic cake using a packet cake mix. When cooked and cooled, cut out small indentations to make an island shape or your choice. Place on a large cake board covered with blue cellophane to represent the sea and then cover the cake with pale yellow frosting to represent the sand. Decorate the cake with plastic palm trees, umbrellas and clusters of sugar flowers.
KIDS LUAU PARTY FAVORS AND PRIZES
For more luau party ideas, Fill up beach pails or straw hats with goodies or make tie dyed cloth bags. Favor ideas might include:
Light up Rainbow Lei
Hibiscus Water Bottle
Child's Natural Hula Skirt
Keep Cool Paper Fans
Ankle bracelets
Hair flowers
Bandannas and straw hats
Anything with a sea or beach theme e.g. notepads, key rings, stickers
Beach balls and inflatable toys