Let The Raptors Be Rapt And The Saurasus Soar, These Kid's Dinosaur Party Ideas Are Rex-citing For Sure
A dinosaur themed birthday party is one of my favorite kid's party themes, especially for the boys.
Dinosaur parties never seems to go out of fashion which is just as well considering the age of the dinosaurs!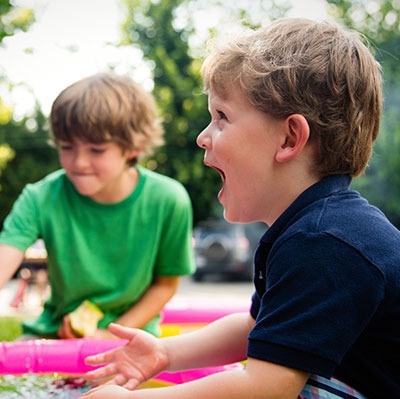 DINOSAUR BIRTHDAY PARTY INVITATIONS
Your invitations could go something like this:
Invitation
Calling all Dinosaur Explorers
X is invited to the land of the Dinosaurs on (date)
Be prepared to dig them bones, hunt those eggs and to have a MEAGASAURUS fun time
REX-plorers should meet at (name of party host) cave at
(place of party)
Time:
Dinosaur Footprint Invites
Write the dinosaur theme party invites on large dinosaur footprints cut out from craft paper. Roll up and tie with a piece of parcel string or straw.
Dinosaur Egg Invites
Pop the invites in large plastic eggs that have a center opening or make eggs out of papier maché. Inside each egg, put the invite and a small dinosaur sticker or toy.
Dinosaur Invite
Use a dinosaur template to trace out the birthday party invite. Get the party child to color them in and write the dinosaur theme party instructions on the reverse.
KID'S DINOSAUR PARTY IDEAS FOR COSTUMES
Making your own dinosaur costume can be quite a challenge. However one easy tip is to make elements of a dinosaur rather than the whole thing. So you could for instance:
Take a green hoodie and sew on a vertical row of colored felt triangles to represent the dinosaur scales. Start from the top of the hood and sew them all the way down the back of the hoodie.
Make dinosaur feet out of old green wellington boots. Cut out white stick on tape to resemble claws and stick to the front toe area of the boots.
Make a dinosaur head out of a green baseball hat. Cut out some triangle shaped teeth from strong white card and staple them around the peak of the hat and so that they hang down. Stick a pair of eyes onto the front of the cap and perhaps glue on some felt triangles down the back of the hat to represent scales.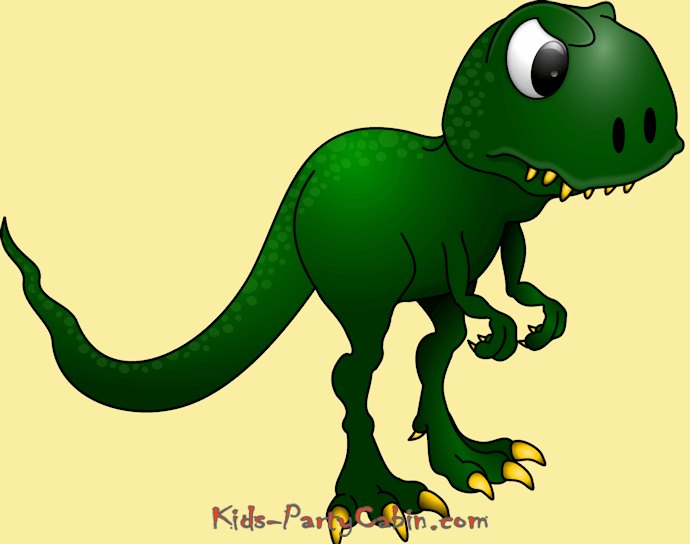 KID'S DINOSAUR PARTY IDEAS - DECORATIONS
Cut out dinosaur footprints from brown parcel paper and make a footprint path from your gate or front door to the party room.
Cover the table with a brown cloth and place large rocks, green plants and plastic dinosaurs among the party food.
Using permanent marker pens or acrylic paint, make dinosaur balloons!. Decorate large balloons with eyes, circular nostrils and a row of zigzag teeth.
Draw large dinosaurs on craft paper stuck to the walls.
Make the Dinosaur theme party room resemble a cave or swamp. Place large rocks or cardboard boxes around the room on which you have painted caveman signs. Hang loads of green streamers from the ceiling and cover furniture with green or brown cloths.
Make a large cave entrance to your house out of cardboard and have a GIANT LIFELIKE T-REX standing guard. NB He is a bit scary for younger kids!
Give the dinosaur party food dinosaur related names. Here are some dinosaur party ideas for the food you will serve.
Dino-Dogs: Sausages in long rolls
Fossil chips: Potato chips
Brontosaurus Burgers: Mega beef burgers
Dinosaur Nuggets: Chicken Nuggets
Lava Juice: Any red fruit juice.
Dinosaur Popcorn: Prepare individual cups of popcorn for each child and place a small plastic dinosaur at the bottom of each cup before filling with popcorn. NB: Warn the kids to eat carefully!
Jurassic Jiggles: Using plastic egg halves or real egg shells that have been emptied and cleaned, insert a small edible dinosaur and then fill with Jell-O. Place the eggs carefully in an egg carton and leave to set in the refrigerator. The kids can either peel off the egg shell (if using real eggs) or you can dip the plastic part of the egg for a few seconds in hot water and then carefully remove the Jell-O egg.
Volcano cake: Prepare a basic chocolate cake using a packet cake mix and bake in a doom shaped cake tin. When cool, drizzle with red frosting to resemble lave and place a couple of sparklers on top.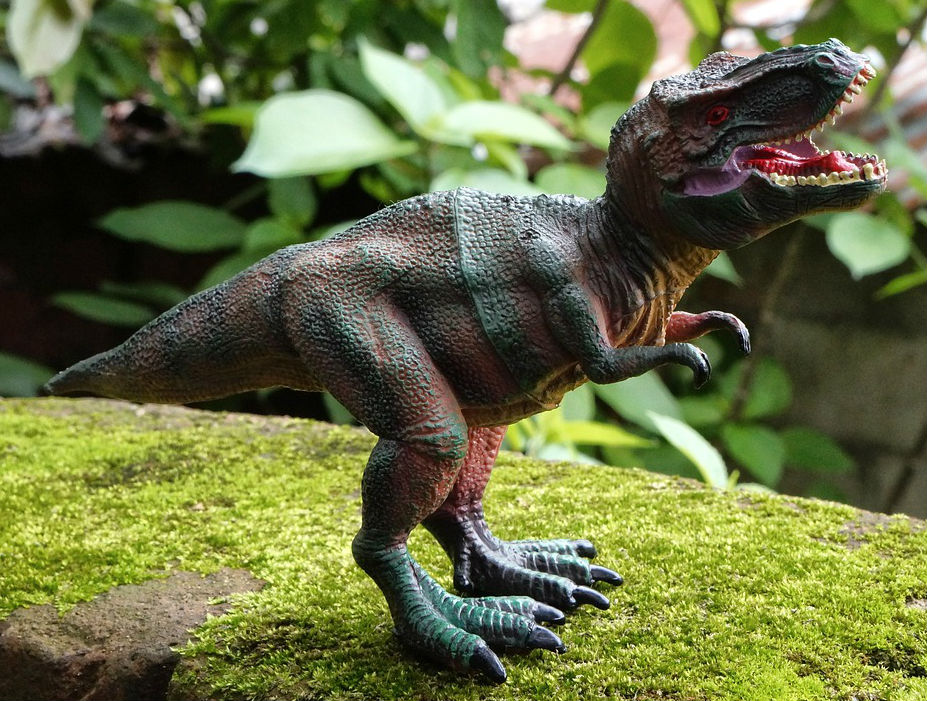 KID'S DINOSAUR PARTY IDEAS FOR FAVORS AND PRIZES
Make archaeological dinosaur theme party kits out of small cardboard boxes such as party food boxes instead of the usual favor bags.
Fill with items such as compass, paint brushes, small shovel, magnifying glass, dinosaur trinkets and games.