A rubber duck party is a real toddler classic.
If you're stuck on kid's party themes then let me suggest a rubber duck birthday party. This birthday party theme is just perfect for toddlers and very easy to prepare.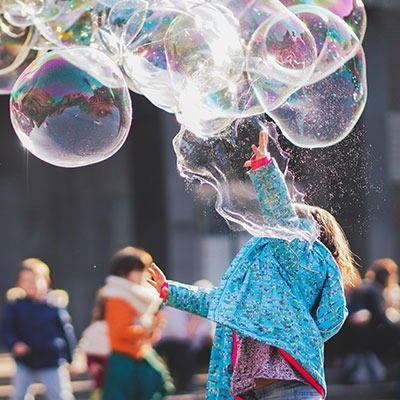 RUBBER DUCK THEME INVITATIONS
Foam Ducks
Stick a foam duck cutout onto a plain card and write on the party details. The guest can peel of the duck and use it for sponge painting later.
Postman Quack
Write the Rubber Duck Party details on a luggage label and tie them round the neck of a rubber duck.
Ducky Photo
Take a photo of your child surrounded by ducks (real or rubber) and glue that to the front of the invite.
Invitation
Quack quack waddle waddle
I'm turning 3
So please paddle over to my place: Address
For a quacking good Time: 3pm
Please drop Mother Duck an RSVP quack : Tel.....
RUBBER DUCK PARTY COSTUMES
My kids were never that keen on dressing up unless it was a costume that they had chosen. Also many toddlers don't like wearing costumes especially if it involves something covering their head so don't force them.
However if the birthday child wants to wear something a Rubber Duck Party costumes Amazon has some really good choices.
RUBBER DUCK PARTY DECORATIONS
Put up rubber duck posters and pictures everywhere
Glue down a line of rubber ducks from the gate to your front door.
Make a cardboard cutouts of duck feet and stick those around the floor. One trail could lead to the bathroom, another to the food area or to the garden. This is very useful for directing toddlers to a certain place.
If the weather is warm, set up a water play area using buckets, bowls and paddling pools and fill with all shapes and sizes of ducks and duck utensils.
Put up lots of white balloons to represent bubbles
Kids tend to think of ducks as yellow so base your decor around that color or pick your kids favorite color and add yellow accents.
Decorate the table with yellow and blue (for water) or green (for grass) and dot small rubber ducks in between the food plates.
Tie a small duck to the back of each chair with a label saying the child's name.
Make a BIG impact with this BIG Rubber Duck Standee which also makes a great photo opportunity.
DUCK PARTY THEME ACTIVITIES
Bubble Fun 
Make your own super bubble mixture
Bubble Machine 
Hire out a bubble machine. Guaranteed to be a hit.
Duck Story
Make up a story about a little duck and get the kids to shout out "QUACK - QUACK" every time you mention the duck's name.
Play dough Ducks
Make a large bucket of yellow play dough and a smaller amount of orange. Also get some plastic eyes (found in craft shops) and get the kids to make their own ducks.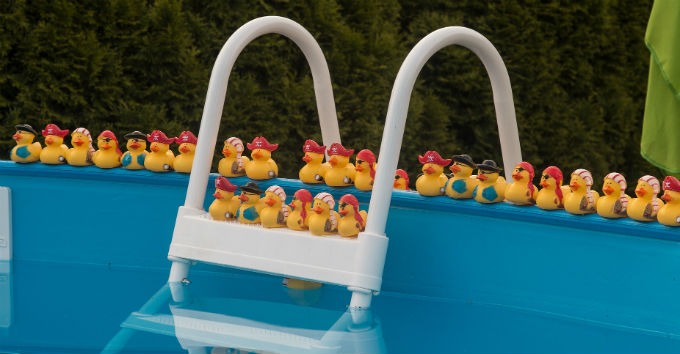 Duck shaped sandwiches & Cookies - Use a duck shaped cookie cutter to make some quacking good cookies.
Ducky Drinks - Place lots of cans of drink in a plastic bath tub and fill with ice and lots of ducks. Use duck straws or simply glue a duck cutout to each straw.
Goldfish crackers
Duck Feed - Prepare a big bowl full of mini savory nibbles. Decant into small paper bags with each child's name so that they can eat on the move.
Duck Pond Cake - Prepare a basic cake using a packet cake mix. Cover with blue fondant icing or frosting and then add some small plastic ducks and plastic foliage. You could also make small stepping stones out of brown m&m's or smarties. A very simple cake that looks really impressive.
RUBBER DUCK PARTY FAVORS AND PRIZES
Rubber Duck Party Favor ideas might include:
small Rubber ducks to set around the room
Duck caps, visors, t-shirts
Any item with duck pictures on it.
Donald and/or Daisy Duck items
Duck Stickers
Bubbles
Duck cuddly toys