FAIRY PARTY GAMES & ACTIVITIES
Are you ready to sprinkle some fun with these fairy party games and activities?
They go really well with my FAIRY PARTY THEME where you'll find lots of ideas for fairy themed birthday parties.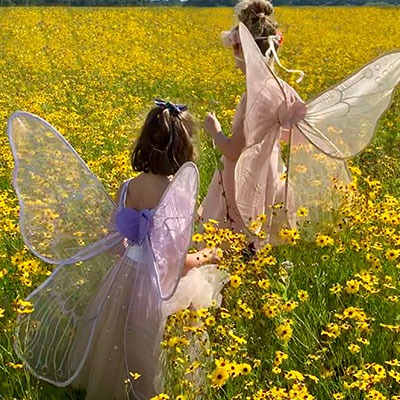 Fairy Party Hide and Seek
Print off or photocopy some pictures of fairies. Stick them onto strong card, let dry and then cut out. Punch a hole in the top and thread with pink ribbon. Hide the fairies around the garden or house and see who can find the most fairies.
This is a version of musical chairs but instead of using chairs, use flowers which you have cut out from card and painted. Lay these on the floor and put the music on. Tell the fairies that if you play the musical loudly then they must rush around the room, but if the music is quiet then they must flutter gracefully about the room. When the music stops the last one to stand on a flower is out of the game but they do get to choose a small fairy gift. You could also use paper lily pads for this game instead of flowers.
Collect a load of wine bottle corks and paint then white to resemble teeth. Also prepare a couple of small baskets that you have decorated with flowers and hung from a tree. See who can then toss the most teeth into the baskets and for every tooth in the basket they get a chocolate golden coin.
The Fairies Missing Wardrobe
In advance make or buy various items of fairy clothing such as a wand, pixie hat, crown, shoes, flower garland and so on. Have a set of items for each team of children. Hide them round the party area and then give the kids a list (pictures might be better) of items to find. The first one to finish gets to choose a fairy gift.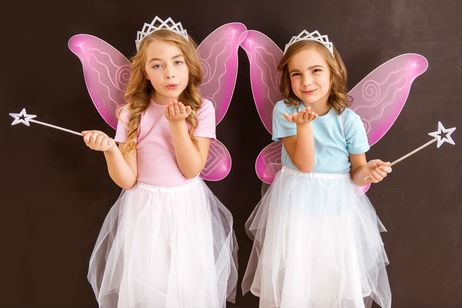 This is one of those fairy party games which is best for outdoors. In advance prepare a magical trail which the kids need follow. Tell them that the fairies have been in your garden and you think that they have left a special gift for all the children but you are not sure where it is. Ask the kids to look for clues in the garden that might lead to the gift. For instance you could lay a path of glitter or glass pebbles; put small plastic insects on the trees; leave small paper foot prints on the ground or leave a trail of plastic flowers. When they get to the end of the trail, have a magical chest set up and filled with goodies.
As a grand finale to the fairy party games, how about having a piñata. You could have flower pinata or anything that has a magical air to it. Check out how to make your own pinata for your fairy games.
In advance make some star shapes out of very strong craft card which you have sprayed gold. Get the kids to decorate them with glitter and jewels. Then glue each star to a length of dowel. Let dry fully and then cast your fairy spell!
Have the "Fairy Godmother" paint the little fairies nails and put some washable glitter spray in their hair. Finish with a dab of blusher and some lip gloss.
Make or buy some plain cup cakes. Provide the kids with loads of different colored sprinkles, silver balls and other cake toppings and get the kids decorating.
Ask your local shoes shop for any spare shoes boxes. Give one to each guest and let them decorate with glitter, colored feathers, stick on gems and marker pens. The kids can use the boxes to store their goodies and prizes from the party.
Cut a stack of circles out of strong white card. Punch a hole in the top and thread with gold darning thread. Give the kids fairy stickers and glitter and ask then to decorate them. The 'Fairy Godmother' can then place it round the child's neck and at the same time, she can grant a special fairy wish of protection.
Fairy entertainers are in great demand at the moment and can really help spin some magic on a party.