These fairy party ideas will show you how to give a truly magical, fairy-licious, twinkling kids birthday party that the kids will not forget.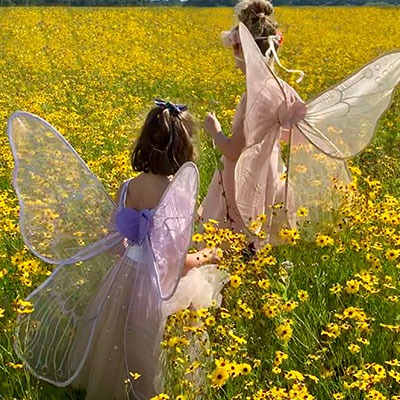 Your fairy party invitations could go something like this:
Invitation
In the land of the fairies on top of a hill (there are pixies there too), sits a little fairy friend who is waiting for you.
Her birthday is near and she wants you to say, that you'll share the magic on her special day.
Please put on your wings or dress your 'fairy' best and let the fairy godmother do the rest.
Fairy Scroll
Using colored craft paper, make the invitation into a scroll and tie with colored ribbon. Sprinkle with glittery fairy dust and a dab of perfume.
Silk Sachet Invite
Make little organza bags and place the invites inside. Tie with a silk ribbon and attach a small silk flower.
Twinkling Invite
Make your own invites out of plain card and then go wild with the glitter and stick-on jewels. Punch a hole in the side and thread some ribbon through.
Ask the little girls to come in their "FAIRY BEST" and the little boys to come as Peter Pan or pixies and elves.
When they arrive have some magical fairy dust to sprinkle on them as they cross the threshold into fairyland. You could at this stage give the girls a pretty flower head band and the boys Peter Pan or elf hats or green sparkle bow ties, or you could save that for the end of the fairy party.
Making a fairy party costume can be great fun but it can also be time consuming or difficult depending on your creative skills. But don't despair as below are some easy to make fairy costumes and which won't cost you much at all. DIY Fairy wings and wands.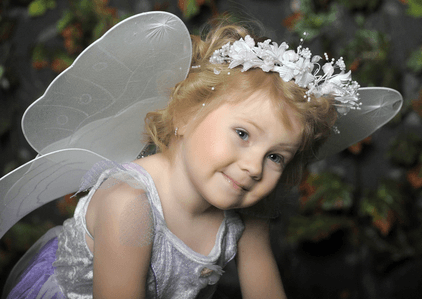 Twinkle, twinkle little star......yes you need lots of sparkle and glitter to create just the right magical atmosphere.
Dedicate one room or area to be the 'Fairy grotto' and go wild with fairy lights, paper flowers, pretty butterflies and anything that adds a magical and mystical touch.
Erect a simple garden arch at the fairy party entrance. Cover it with fairy lights and paper flower garlands. Have the fairy godmother ("You"!) standing in front of it ready to sprinkle some magical dust onto the guests as they walk through the arch. This will transform them into fairies of course.
Play dreamy music in the background.
If your party will be outside, pick a wooded area whereby you can make a secret garden. Set up a tea party area using tree trunk stumps as stools and set up a miniature tea set. Sprinkle saw dust on the ground and mix in a little glitter – kids love this.
Decorate the trees with flower garlands, butterflies, dragonflies, fairies, and other woodland creatures in and around it.
Suspend a large colored mosquito net from the ceiling to give the room the effect of being a grotto. Attach colorful butterflies and paper flowers to it and also twinkling Christmas tree lights.
Decorate in colors such as pinks, purples and greens. Add lots of glitter and sparkle.
Idea #1
Decorate the fairy party food table with streamers, flowers and glitter. Lay a length of white or pink tulle down the center of the table. Spray paint squares of MDF in silver or metallic pink/purple and sprinkle with glitter and use as place mats, Have a tiara or crown on each chair with the child's name on it.
Idea #2
Alternatively have a fairy picnic in a secret fairy garden that you have decorated with paper flowers, butterflies and twinkling fairy lights.
And for some magical fairy food how about:
Fairy Wands - Long pretzel sticks dipped in melted chocolate and then covered in sprinkles.
Fairy Fizz - Pink lemonade.
Fairy Nectar - Any colored punch poured into glasses and decorated with flower shaped ice cubes and fruit pieces.
Pixie Punch - Make a green fruity punch with lime sherbet balls and ginger ale
Fairy cup cakes - Buy or make plain cup cakes. Carefully slice off the tops horizontally. Cut the tops in half to form the fairy wings. Place a small blob of icing on top of the cakes and replace the wings setting them in an upright position. Sprinkle with icing sugar.
Teeny Weenie Sandwiches - Make some sandwiches then cut off the crusts. Use a cookie cutter to cut out star shapes and use tooth picks to eat them
Ballerina Tutus - Pink meringues filled with pink cream and sprinkles
Fairy Bread - Lightly butter white bread, spread with lots of sprinkles. Cut off the crusts and then cut into triangles.
Magical Toadstools - Put strawberries on the end of small BBQ skewers and then stand upright on a large piece of florists foam.
Instead of paper or plastic party bags try making your own out of organza or silken material and ribbon and then personalise them with glitter glue and streamers.
Alternatively use small plastic flower pots that you have painted and decorated with glitter and stickers. Punch 2 holes on opposite sides of the rim and thread a pretty ribbon through to make a handle. Fill your fairy party bags with treasures such as:
Bag of magic fairy dust (glitter)
Lip gloss and glittery nail polish
Anything flowery and pretty for their hair
Bow ties for the boys
Magic wands
Anything that glows and sparkles
Torches to go on night time fairy hunts
Chocolate golden coins
Polished rocks and glass pebbles used for flower arranging