This COOL theme was submitted by Danielle (Southbridge, MA, USA)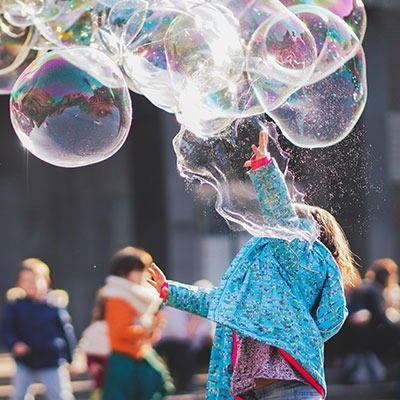 Theme and venue:
This year my daughter asked for a "Frozen swimming birthday". Many people are familiar with the film, and her birthday falls in January, so I was really excited to put this together. I called up the local YMCA that we are lucky enough to have in town, and was able to secure an hour in the pool and an hour in the party room for pretty cheap. Anyone who doesn't have a YMCA near them might try contacting a school (we have one near us that has a pool).
Invitations:
My daughter's birthday falls right after the new year, and I didn't want people to forget or lose the invitation amongst all their Christmas cards, so I made a Facebook event page to keep it in the forefront of people's minds (or at least their newsfeeds!). For the event photo I did a quick search and found a cute picture of Olaf wearing an inner tube, and then for the info I put: "Splish splash we're having a Frozen bash! Join us while we celebrate Alexandra's 4th birthday, don't forget a swimsuit and towel!" It was a little sad not to have real invites but it made things a lot easier and more efficient!
Decorations:
I had it pretty easy this year since my daughter chose something so recent and popular, because there are plenty of Frozen party supplies available. I picked up an adorable Frozen banner that you could customize with the age of the birthday child (available at birthdayexpress.com). The colors for the banner were turquoise and purple, so we tried to stick with that when choosing tableware and balloons.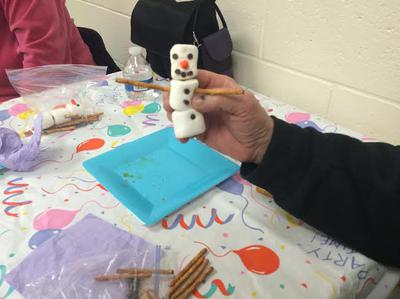 Food:
Normally I go all out and carry the theme through the whole menu, but I decided to take it easy this time and order a party pizza and focus on making some simple themed snacks. I took marshmallows, pretzel sticks, mini chocolate chips, and orange tic tacs, and put a few of each in snack bags so guests could "build a snowman", and my husband put a little bit of ranch in mini cups and added baby carrots for dipping. I used Frozen clipart from the Disney website to whip up food signs that said Snowman Snack Mix with a picture of Olaf, and Reindeer Treats with a picture of Sven. We put out blue and purple mini gatorades and mini water bottles for drinks. The kids actually loved the little carrot dipper cups we made and everyone got in on building a snowman (adults included!)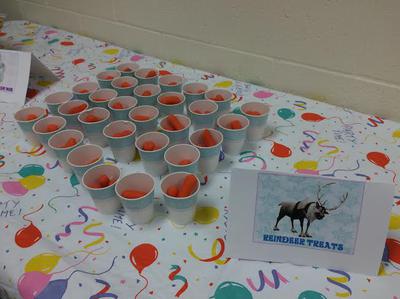 Cake:
I made two batches of white cake batter and used food dye to make them light purple, then I baked two square layers. My husband used white frosting and a couple shades of aqua frosting he had made and blended them together to make the cake look icy and wintery. Then we used a snowflake cookie cutter I picked up at Michael's as a stencil to add blue sugar in pretty shapes. We put mini Anna and Elsa figurines on top to complete the look.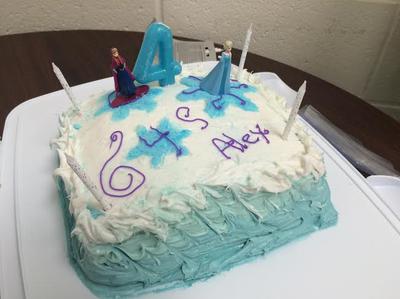 Favors:
For favor bags, I just bought a cheap pack of white paper bags, some Elmer's glue and some glitter (though glitter glue could have worked also). I googled snowflake shape clipart and traced the designs on the bags with glue, then I sprinkled them with glitter and got rid of the excess to make sparkly snowflakes. I made each one different, so that no two bags would be alike (just like snowflakes!) and I labelled the bags with a metallic sharpie I had. For favors, I bought some pretty blue and teal rock candy sticks from Party City and some cheap Frozen activity books from Target. I made paper fortune tellers (I think some people call them cootie catchers) with quotes from the movie for the kids to play with, and then I used more clipart from the Disney site to make Thank You Cards that each had a picture of one of the characters and said "Thanks snow much for making my party the coolest!". I left room for my daughter to sign each one (albeit messily) and tucked them in the favor bags with all the other goodies.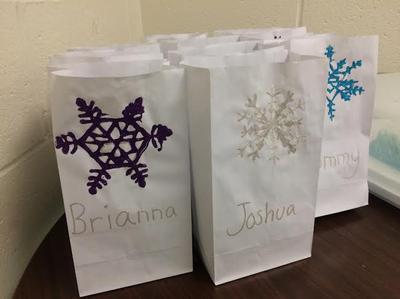 This party was so easy and fun to plan, and so rewarding to see come together! The kids (and parents) loved it and are still talking about it weeks later!! I hope this helps anyone planning their own Frozen bash 😀