A Jungle theme party is a really great party for the 2 – 8 year old and what I love about this birthday party theme, is that it never seems to go out of fashion.
Most kids have a favorite animal and so let that be a starting point to a whole load of wild monkey-business. You can tailor this party around the jungle or the zoo or even just one animal such as lions.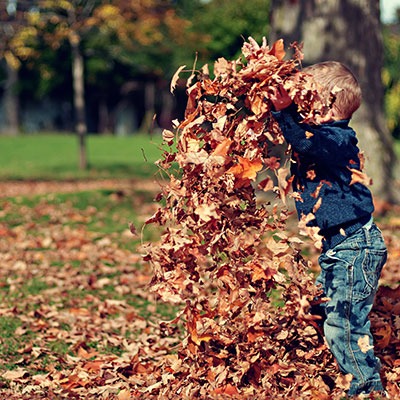 Your Jungle theme invitations could go something like this:
Invitation
Calling all you wild and wonderful party animals
X (party child) invites you to a truly wild birthday safari adventure
Animal antics and wild activities are guaranteed!
Meet at the jungle house (address)
Time: + Date:
Don't forget : Only 'animals' permitted to enter this jungle of fun
Animal Mask Invitation
Purchase some cheap paper animal masks and write the invitations on the back. These could be used by the kids who haven't got an animal costume to wear to the party.
Animal Skins Invitation
Place the invitations in plain envelopes that you have colored/painted with stripes or spots to resemble jungle animal fur.
JUNGLE THEME PARTY COSTUMES
Ask the kids to come dressed as their favorite animal or perhaps a jungle explorer.
Another option is to have the kids make and color an animal paper mask when they arrive. You could also make a tail for each of the animals which you can do out of perhaps some rope with a knot in the end (lion or giraffe) or an old tie or strip of cloth (monkey).
A jungle party is the perfect party for face painting. If you can do it yourself that is great but if not you could get a book on animal face painting and teach yourself or there is always the option to hire a face painter in your area.
Making the party room look all 'jungley' is not difficult and you may well have quite a few of the materials and props already at home. Here's how to give the main Jungle theme party room a 'jungle makeover':
Hang lots of green streamers from the ceiling and drape in doorways and around the furniture
Gather all your potted plants and create a jungle corner in one part of the room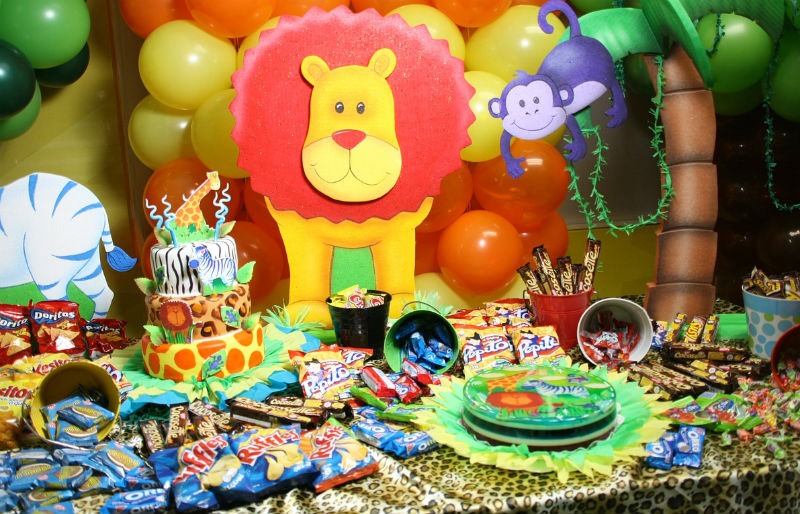 Place cuddly animal toys around the room and hang from string or rope.
Hang a large piece of netting from the doorway and attach rubber snakes and other jungle creepy crawlies. This can be the gateway to the jungle.
For the adventurous amongst you, ask your local carpet store for any unwanted carpet cardboard rolls. Cut to size, paint brown so they resemble tree trunks. Secure them in the corners of the room by placing the trunks in buckets filled with heavy rocks. Hang green streamers or make big leaves out of green crepe paper.
Decorate a plain white paper tablecloth with spots for a leopard/giraffe or stripes for a tiger/zebra. Sprinkle the food table with lots of creepy crawly plastic bugs and snakes.
Give the food a jungle feel by naming the food with jungle names.
Jungle Juice - Any fruit punch colored red or green
Snake Eggs - Cooked and cooled hard boiled eggs.
Lion Burgers - Huge hamburgers
Cub Sandwiches - Mini club sandwiches with the kids favorite fillings
Snake Straws - Homemade cheesy straws twisted into a wiggly shapes
Animal Cup Cakes - Make Cupcakes and decorate with icing or edible animal decorations
Animal Cookies - Use animal cookie cutters to make biscuits and decorate with colored icing.
Parrot Lollies - Make multi-colored Ice Pops using different colored fruit juices. Great for cooling down those jungle explorers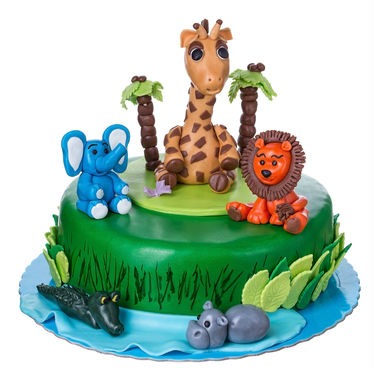 JUNGLE THEME PARTY FAVORS AND PRIZES
Jungle Theme Party Favor ideas might include:
Plastic jungle animals
Binoculars
Pith helmet
Animal stickers and tattoos
Water bottles
Compass
Animal t-shirt