KIDS BIRTHDAY PARTY THEMES
These fun birthday party themes were suggested by our readers. Why not give one a try for your next party?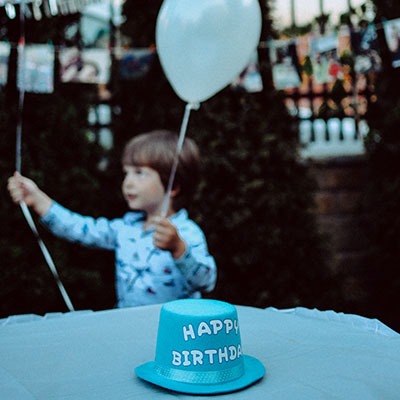 by Autumn
(New Mexico)
For my son's 11th birthday I held a party in his favorite color--RED.
The invitations were a solid red and blank on the inside where we were able to write in red marker the invite details.
I made red velvet cupcakes with white frosting and red sprinkles and sugar crystals for the kids. Balloons in red--everything was in red and maybe a splash of white here and there.
Food was hamburger and hot-dogs and don't forget the ketchup to top the theme along with punch.
We also noted in the invitation that the party color theme was red so we encouraged the kids to come dressed in red as well.
When you get it all together it looks really cool in pictures to have everything from food to kids all color coordinated.
LUCKY PARTY FOR A 10 YEAR OLD
by Amzie
(Scotland)
A lucky themed party sounds a bit silly but it really isn't! Kids will love the idea of being lucky on this special day!
INVITATIONS:
For your invitation you could have a four leaf clover.....how do you do this? you may ask. Well it's really quite simple. Get a piece of green paper and cut it into a sort of bumpy shape that looks like four lollipops joined together with only one sick in the middle.
Now write all the details of the party on it e.g. Dear bob you are invited to sally's party... Date ..... Time.... Place..... Telephone......
DECORATIONS:
For your decorations you could have some green table runners, balloons, party hats and maybe even four leaf clovers hanging up here and there!
GAMES:
For games you could have "Pass the leprechaun" (it could maybe be a toy leprechaun) and whoever wins gets it!
That's all my ideas for a lucky themed party hope you like them!!!
CAMPING PARTY FOR 7YRS AND UP
Sleep in tents outdoors! Tell scary stories and play games around a campfire. Make plans of how to scare or prank your friends during the night.
This is a good party because if anyone gets scared, cold, etc in the night they can easily come and sleep inside.
For food roast marsh mellows as a fun snack (you can use a barbecue to do this) and make your own kebabs. Set out vegetables and marinated meats (Pork and chicken are good. Use the Internet to find good things to marinate it in).
To remember whose is whose kebab put some different colored beads on a wire or pipe-cleaner and wrap it around the end of the kebab stick. Metal sticks with holes in the end to thread the wire through work best.
For breakfast set out plates of bread, butter, bacon, eggs, and all your favorite toast toppings.
This is a great party as parents inside can not hear the kids outside unlike most slumber parties.
by Maria Corcuera
(Barcelona)
We had David's 2nd birthday party.
The theme was the "Red" colour. All the guests arrived dressed in red!
We had a kid's and an adult buffet. As activities, we had red stickers, red toys (hats were a success), dance, a Mickey mouse chapter and a rain of red balloons which was fantastic.
If you wart to see more pictures go to:
http://creamomentos.blogspot.com/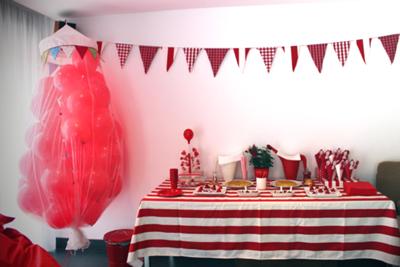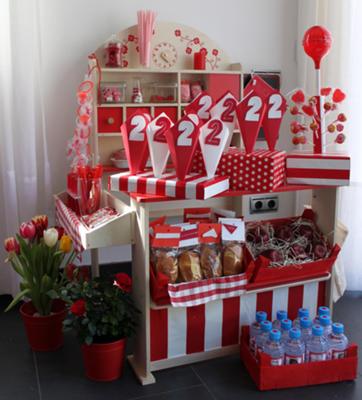 by Ruth Millner
(Dorset)
This was a fun fair party.
We enlisted the help of several friends and borrowed a hall, setting up lots of stalls and a cafe.
We got lots of bags of 2p pieces from the bank (most of which we collected up at the end) and each child was given a bag as they arrived, spending their money as they went round - party food was served in the cafe and cost 2p per item.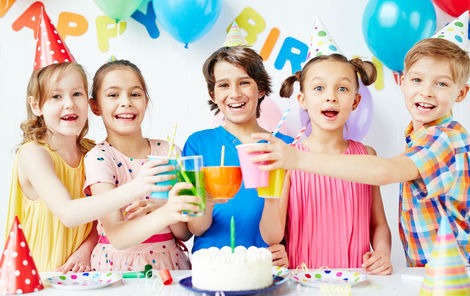 Lots of parents stayed and asked if other siblings could stay too - we ended up having to recycle some of the coins as we used up the 40 bags we brought! We used old toys from McDonald's etc. as prizes.
We also issued raffle tickets and each child came and got a prize when their number was called. Some parents (including the class teacher) said it was the best fun fair party they'd ever been to!