This kid's tea party is simple, fun and it always impresses.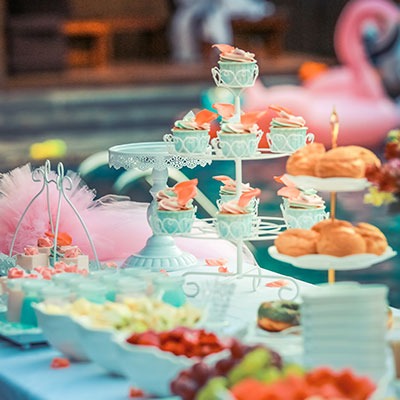 My Kid's tea party ideas are going to go down a real treat and this is definitely one of my top kid's themes for ease of planning and guaranteed kid satisfaction.
If you have a little girl and you're not sure what birthday party theme to choose, then this could be the one for you. I do find that this is more a little girls party but of course boys are always welcome!
TEA PARTY INVITATIONS FOR KIDS
I always like to put a little rhyme in my invites and the rhyme below is perfect for a kid's Tea Party Invitation wording:
I'm having a tea party and I'd like you to come
so please dress up nicely and let's have some fun.
We'll have tea and biscuits and all things nice
and maybe a sugar lump with a pinch of spice.
We'll play lots of games and laugh and sing
so if you can join me please give me a ring.
More suggestions for tea party invitations
Teapot Invitations
Make the invites on strong card using a teapot template. Decorate with lots of flower stickers. Cut out a piece of rectangular card (teabag shape) and attach a piece of thread to it. The teabag should not be larger than the tea pot body. Write the instructions on the teabag and then attach the thread to the back of the teapot with some scotch tape. Secure the teabag itself to the front of the teapot with a little blue tack.
Formal invitation
Using plain white postcards, hand write the party details using a calligraphy pen. Edge the postcards with a thin gold marker pen. Place in a gold envelope.
Photo Invitation
Take a digital photo of the party child, all dressed up in hat and jewels and sipping tea. Using your computer, design a simple invitation and incorporate the photo.
Doily Invitation
Take a plain white paper plate and draw/stick images of pretty cupcakes round the outer edge. Write the tea party details on it and then stick it to the middle of a pretty round paper doily. Then roll it up and secure it with a napkin ring or piece of ribbon.
KID'S TEA PARTY IDEAS FOR COSTUMES
Ask the kids to come dressed in their "Sunday Best" but do also have some accessories available for those who forget. These could include necklaces, gloves, veils and anything floral and flouncy and don't forget the kid's tea party hats. This is a must have for any tea party.
Garage and yard sales are great places for picking up jewelry trinkets, beads, hats and lace gloves. Anything chiffon and floaty is sure to be popular.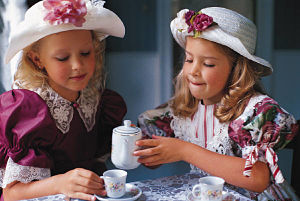 DECORATIONS FOR KID'S TEA PARTY IDEAS
If the weather is warm, an outdoor tea party under a canopy can be just perfect. Decorate the canopy with lots of flowers (real or fake) and string balloons from the ceiling. Make the table the centerpiece and lay it up as though royalty was coming to tea!
If indoors dedicate one room for the tea party table. Clear it of clutter and go to town with flowers and lots of lace and pretty decorations.
Rummage round the thrift shops and boot sales for china cups and plates
Scatter rose petals over the table
Decorate each chair with a big paper bow
Make little name cards and use the words "Miss…" and "Master…"
At each place setting have a little organza bag filled with sugared almonds and tied with a ribbon.
Have some gentle music playing in the background
Don't be frightened to use real china cups and silver spoons. You'll be amazed at how grown up the kids will be no matter what age (well above the age of 4 years!).
If you want some tea party theme party-ware then here is a really cute TEA TIME TABLEWARE KIT which you can adapt to the number of party guests.
KID'S TEA PARTY IDEAS FOR ACTIVITIES
When the kids aren't sipping tea and nibbling cakes, they will need something to keep them busy so how about some kid's tea party ideas for activities.
Dressing Up Chest
Create a small boudoir and hang up dresses on a rail and have shoes neatly arranged. Lay out jewelry and accessories on a nice table and have a long full length mirror for the kids to admire themselves in. And have the camera ready.....
Napkin Folding
This is probably better suited to the over 6 year old. Give the kids some simple napkin folding lessons and give a prize for the best one.
Hat Decorating
Buy some cheap straw hats and a stack of silk flowers and colored ribbons. Let the children create their head master piece.
Photo Shoot
Find the biggest chair you can in our house and drape a sheet over it. Have a box of fancy dressing up clothes available and maybe a little lipstick and blusher. Take a photo of the kids looking all grown up and sitting in the big chair.
KID'S TEA PARTY IDEAS FOR GAMES
KID'S TEA PARTY FOOD IDEAS
Think of your color scheme and add flowers and foliage to match. Decorate the serving plates with doilies and use silver serving spoons and fancy serving bowls. Finger foods are best but make them small and dainty.
More fun kid's tea party ideas is for you to dress up as a waitress and serve the kids just like in a posh restaurant. Food kids tea party ideas might include:
Jugs of peach or apple juice - Most kids will probably prefer that to real tea although some kids do like iced tea.
Finger sandwiches - Dainty sandwiches with the filling of your choice. Cut into triangles and of course cut the crusts cut off too!
Crudities and dips - Carrot and cucumber sticks are often popular. Serve with little bowls of mayonnaise or cream cheese to dip them in.
Savory canapes - Cheese biscuits topped with cream cheese and then bits of chopped ham, tomato or whatever the kids might like.
Stuffed cherry tomatoes - Scoop out the soft center of the cherry tomatoes and replace with cream cheese. Use an icing piping bag for this and they will look great when done.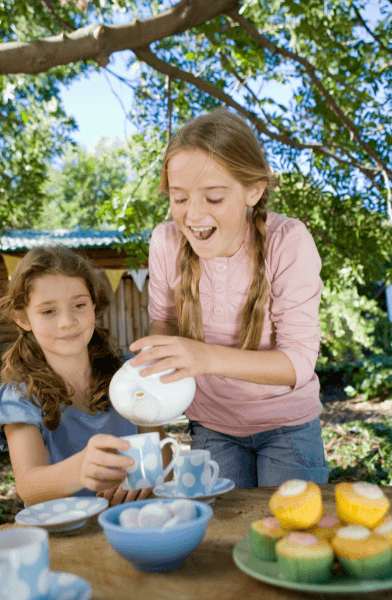 Iced biscuits - Make or buy plain shortbread cookies and decorate with icing and sugared flowers.
Colored marshmallows and fruit kebabs - Skewer wooden BBQ sticks with marshmallows and seasonal fruits. Have a little squirting cream ready for dipping them in!
Cupcakes or Fairy cakes - Buy or make small cup cakes and decorate with colored frosting and sprinkles. Pile high on this beautiful princess cupcake stand.
Chocolate fruit - Grapes and strawberries dipped in melted dark and white chocolate and then allowed to set
Doily Cake - Make 2 basic round cakes using a packet cake mix. Sandwich the cakes together with either cream and jam or a flavored filling. You could also add fruit but some kids will probably not eat it then. For the top of the cake place a paper doily on top and sprinkle over lots of icing sugar. Remove the doily and you should have a nice pattern. Decorate even more with sugar flowers secured in place with a blob of icing.
KID'S TEA PARTY IDEAS - FAVORS AND PRIZES
Tea party favors are easy if you think of anything sparkling and pretty. Here are a few kid's tea party favor ideas:
Faux jewels
Floaty scarves - chiffon or feather boas
Miniature tea sets
Small notebooks and pencils
Glittery purses
Small photo frames
Hair accessories
Fake moustaches and monocles (for boys)
Bow ties and hair gel (for boys)
And as an extra cute idea, put all the favor goodies in a tea party favor box.