This fun party theme was submitted by Danielle (Hardwick, MA, US)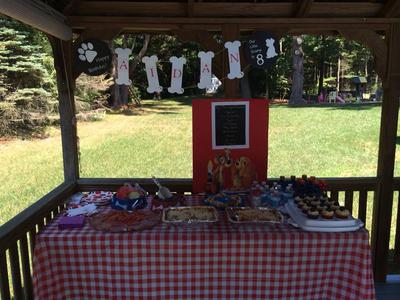 For my son's 8th birthday, he chose Lady & the Tramp for his theme. There are a lot of great elements to this classic film to work with, so even though my husband and I had to design most things from scratch, it was well worth the effort.
I am lucky enough to have a friend with a very nice yard complete with a trampoline, playground, and pool, who was itching to host a summer birthday party (her kids are all winter babies), and so generously offered me her home as the venue.
For the invitations, my husband used clip art of the puppy couple and our silhouette to cut out bone shapes along one side, which came out really cute. The invite read, "Let's get ready to celebrate, our little scamp is turning 8, come join the paw-ty everyone, for dog paddling, cake, and lots of fun!" along with the party location and details.
For the food we chose to loosely pay homage to the restaurant where Lady and Tramp find puppy love. I mounted a large printout of the famous spaghetti scene on red poster board and above that I printed white font with a black background made to look like a chalkboard menu titled Tony's Town Square Restaurant.
The appetisers included Mamma Mia Melon Treats (watermelon cut into bone and paw print shapes using cookie cutters I picked up cheap at Walmart), A la Carte Antipasto (just a tray I threw together of salami, pepperoni, pepperjack cheese, and sliced tomatoes marinaded in Italian dressing), Puppy Ciao (typically known as Puppy Chow or Muddy Buddies, this is a treat made with Chex, peanut butter, chocolate and confectioner sugar).
"Today's special" was Bella Notte Baked Ziti, and the desserts were Tony's Cannolis (after the owner of the restaurant) and 'Joe's pisketticakes' (cupcakes named for Tony's employee and piped with frosting made to look like spaghetti with a small homemade Oreo truffle on top to resemble a meatball, they were a hit!).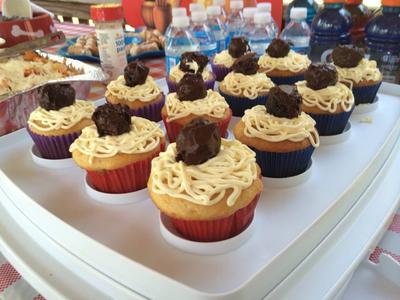 We had mini water bottles and mini Gatorade available, which made beverages super easy! These were all laid out on a red and white checkered tablecloth (Dollar Tree) like a pizzeria might have.
For the decor my husband used our Silhouette to make an awesome banner with my son's name spelled out on bones and bookended with two paw print shapes that said "Happy Birthday", and "Our little scamp is 8!". We also had purchased black and white paw print balloons along with some to match the color scheme (red, blue and purple) that we put around outside.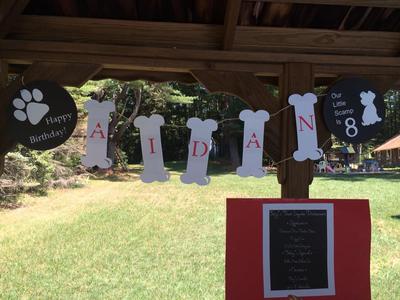 The kids started out at the playground/trampoline area, then moved to the food, and promptly into the pool! Towards the end of the party, we did presents and then gave out favors in homemade dog house favor boxes. Each one was filled with a tiny Frisbee, a bandanna, dog stickers, and a dog collar bracelet (Oriental Trading), a mini activity pamphlet I whipped up that included a maze (Help Lady escape the Pound), a word find, and a math problem to figure out how old you are in dog years, a crayon, and a thank you for coming to my party note made to look like a postcard.
After the favor boxes were handed out, we had a puppy adoption using little stuffed puppies that I found at Birthday Express. I helped the kids fill out certificates I had thrown together that said "This is to certify that _______ has adopted _______ and welcomed them into their forever home". The kids got a real kick out of this part.
The birthday boy and his friends all had a blast at this theme party and I had such fun putting it together!