A nursery rhyme party is a perfect birthday party theme for toddlers and preschoolers.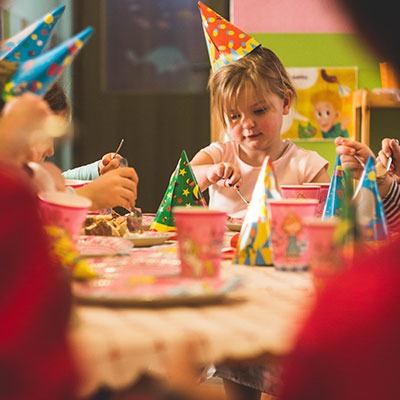 Most younger kids will be familiar with some nursery rhymes so this birthday party is perfect as it provides a familiar theme that they will be comfortable with.
If this is your child's first birthday party with guests, it can all be a bit scary and overwhelming for them. So try and make it RELAXING for them (and for you) and above all, HAVE FUN!
NURSERY RHYME PARTY INVITATIONS
Making your own birthday party invitations couldn't be simpler.
Print out some Nursery Rhyme Characters on colored or white paper and then cut them down to size. Take another sheet of colored craft paper (choose a color that compliments the paper with the printed image) and fold it into a card. On the front section, stick the nursery rhyme character leaving a small border to form a frame round the image.
Another alternative is to buy some small cuddly toys. Write the party details on a colored luggage label and tie it with some ribbon around the toys neck or hand.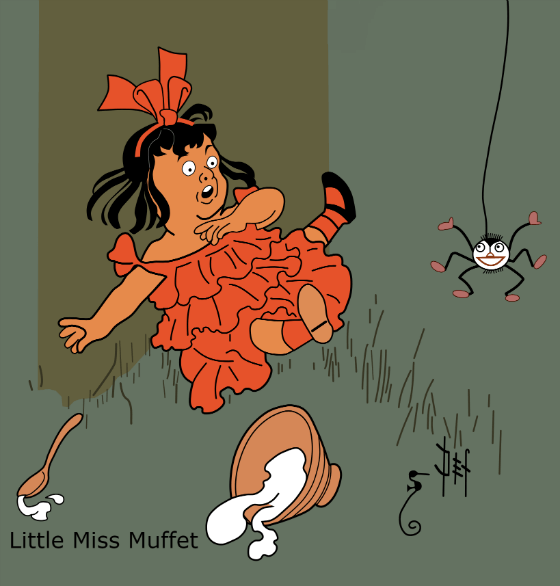 NURSERY RHYME PARTY COSTUMES
It is a nice idea to ask the parents and/or kids to come dressed up as a nursery rhyme character. However from experience I know some little kids freak out when asked to put on a costume especially if it involves putting something on their head.
Most parents will probably dress their kid in something cute anyway so use your judgment on whether you want to encourage kids to come dressed up.
NURSERY RHYME PARTY DECORATIONS
For the nursery rhyme decorations start with familiar things like balloons and streamers as your design base and then add anything connected to nursery rhymes. So for instance you could do all or any of the following:
You could have different areas of the room set up for different rhymes such as
Farm Animals Corner
Set up an area with lots of different toy farm animals that you might find in nursery rhymes such as ducks, sheep, cats and dogs.
Humpty Dumpty Corner 
Get lots of small cardboard boxes that the kids can use to build a wall. Also have a cuddly Humpty Dumpty whom they can put on top of the wall once it is built.
Hickory Dickory Dock Corner 
Place a poster of a clock on the wall and  gather together as many kids toy clocks that you can find plus some little toy mice that the kids can play with.
Little Miss Muffet's Corner 
Set up some small chairs with dolls sitting on them and have a spider on a string hanging near by.
Nursery rhyme Posters
If you can get some nursery rhyme posters, hang these on your walls or alternatively print out nursery rhyme characters on A4 paper and then create a frieze along the wall at the height where the children can see and point to the pictures.
Nursery rhyme Music
Music will be very important so get all your nursery rhyme music CD's and Mp3 downloads sorted out or borrow from friends and family if necessary.
NURSERY RHYME PARTY GAMES
Not all younger kids like playing games. Or put it this way, they are a bit shy to get started.
My list of nursery rhyme birthday party games shows you how to plan easy but fun games which are great at encouraging even the most hesitant preschooler to join in.
Click here for nursery rhyme games.
Don't go overboard with the party food as little kids may well not eat much although their parents might! Go for finger foods that are not too messy and then have a cake at the end.
For drinks I would suggest mini cartons with straws as these are less easy to spill and are the right size for little hands to hold. Get parents to write the child name on the carton as invariably they get put down after a sip or two.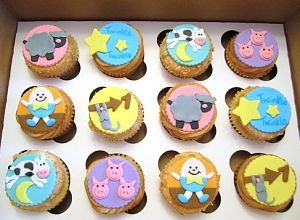 FINGER FOOD WITH A NURSERY RHYME THEME MIGHT INCLUDE:
 "Queen of Hearts" - Jam tarts
"I'm a Little Teapot" - Serve drinks from a teapot
 "Humpty Dumpty" -  Hard Boiled Eggs with a Humpty Dumpty face drawn on them
"Twinkle Twinkle Little Star" - Star Shaped Cookies
 "Little Jack Horner" -  Mini Fruit filled Pies
 "Simple Simon" - Mini sausage rolls
"The three little pigs" - Cheese straws
Raw fruit and vegetable pieces/sticks
Mini sausages
Cheese cubes
Crackers
Mini fromage frais
NURSERY RHYME PARTY FAVORS AND PRIZES
Nursery rhyme birthday party favor bags aren't really necessary at this age and often a lollipop and a balloon is exciting enough.
If you do want to give out party favors though instead of party bags, why not use mini plastic pails just like "Jack and Jill". Fill them with a few goodies and write each child's name on the outside. Favor ideas might include:
Nursery Rhyme Character stickers and badges
Gingerbread men
Small cuddly toys
Nursery Rhyme Snap Cards
Pin wheel stars
Mini farm animals
Mini chocolate eggs
Nursery rhyme story books