A race car theme party is one of the hottest birthday parties right now.
In fact it just never seems to go out of fashion which is why I love it so much. Naturally it is most popular with the boys but the girls are also very happy to join in.
So let's get going for some action packed, 'wheelie' good party ideas.....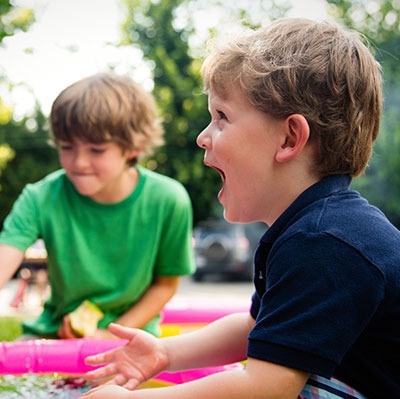 RACE CAR THEME PARTY INVITATIONS
Invitation
Calling Driver X
Get into gear and race over to my 4th party
Pit Stop: Address
Race Time: 2-5pm
Race Marshall contact: Tel xxxxxx
Checkered Flag Invite
Make a paper checkered flag and write the invitations on the reverse.
Wheelie Invite
Make a card in the shape of a wheel and write the details on the hub or on the reverse.
Helmet Invite
Make a card in the shape of a racing helmet. Where the visor should be, stick a picture of the birthday child. Out of a separate piece of card, create a visor and attach it to the helmet so that it can be lifted up to reveal the picture. Write the party details on the back of the helmet.
Race Car Invite
Make a card invite in the shape of a car. Stick on paper doors and when the kids open the doors, it reveals the party details.
RACE CAR THEME PARTY COSTUMES
When the children arrive, get each one to check in with the official race marshal (you!) and then issue each child with a numbered badge, vest or even a t-shirt or cap with their name and number on it.
These can be used in the race car theme party games later on.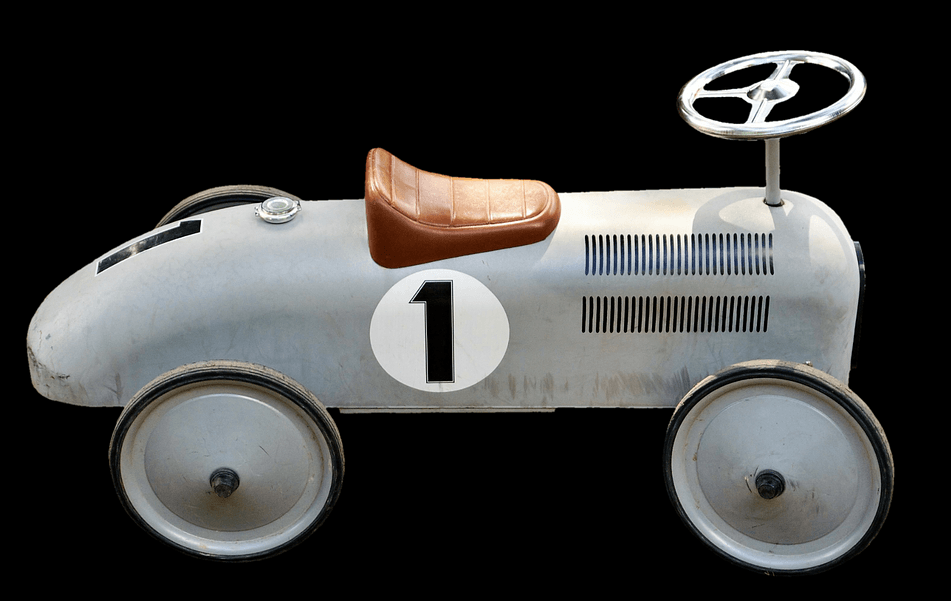 RACE CAR THEME PARTY DECORATIONS
Create a balloon arch at the entrance to the party using black and white balloons or the favorite colors of the birthday child.
Place country and racing flags all around the room or this cool flame banner
Create a podium in one corner for the lst, 2nd, 3rd winners. Make it out of large wooden blocks, stools or strong plastic bowls turned upside down.
Place a crowd wall mural around the room. These can be bought quite cheaply from several party stores.
Create a pit stop area out of old tires and straw bales. This might be better suited for outside. The pit stop area could also serve as the food and drink area.
Hire a candy floss or popcorn cart for the party or make your own and have it all ready in one corner.
Stick pictures of famous racing drivers or racing cars around the room.
RACE CAR PARTY GAMES & ACTIVITIES
Car Logos
In advance make a racing car out of cardboard boxes – the bigger the better!. Give the kids large paper shapes and get them to draw and color their own personal logo. Later on you can stick these on the car and take photos of each kid with the car.
Photo Shoot
Have each child stand on a podium in the #1 spot and take a Polaroid photo of them holding a trophy.
Design A Flag
Give each child a large rectangular piece of craft paper. Draw vertical and horizontal lines on the paper to represent the chequered pattern. The let the kids color in the squares with in the traditional black and white or let them use their imagination and do whatever the like. When they have finished, attach the flag to a long, thin piece of wooden dowling.
Tyre Tracks
This is great for the younger kids. Mix up some poster paint in bowls. Give the kids a selection of plastic toy cars and some paper. Let them 'drive' the cars through the paint and then drive the car over their paper to make wonderful colored tyre tracks.
Day At The Races
If you want to go the whole hog, how about giving the kids a day at the race track. It's not a cheap option but wow they will be impressed when you offer them a drive in a Lamborghini Gallardo!
And I've not finished yet! I have a whole page dedicated to kids race car theme party games. Click Here For Race Car Games.
RACE CAR THEME PARTY FOOD
Keep the race car theme party food simple and fun. You may well have quire a boisterous crowd so either aim to sit them at a table for some quiet time or let them do the opposite and create side stalls for them to eat on the move.
Hot Wheels Hamburgers
Place a circular piece of cheese on top of the burger so it looks like the wheel hub. Place in a round bun and serve with ketchup - of course!
Pit Stop Pretzels
Corn chips and popcorn.
Racy Hot Dogs
With a couple of toothpicks, secure small slices of gherkin, tomato or onion to the outer edges of the hot-dog bun sot that they resemble wheels.
Traffic Light Cookies
Make some simple cookies and top with green, red and amber icing.
Jammy Tyres
Oreo biscuits or any round biscuit with a round jam/icing center
Power Punch
A mixed fruit punch to give those thirsty drivers some energy.
Speedy Sodas
Soda mixed with fruit juice and topped with a crazy straw
Racetrack Cake
Make 2 round cakes using a packet cake mix. Cut out the center from each one and then lay the cakes side by side so that they resemble a figure of 8. Cover with grey frosting and decorate with colored paper flags and a few toy cars.
Have a look at this great race track cake which was submitted by a reader.
by Lara
(London UK)
For this race track cake I found a disposable paper cake tin in the shape of the number four at a local cook shop. It was a hit!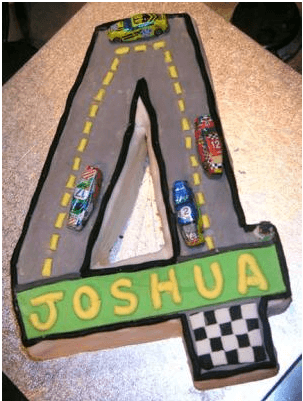 RACE CAR PARTY FAVORS AND PRIZES
Gear your favors (sorry about the pun!) around anything with a car on it - books, stickers, pencils. Favor ideas could be:
Racing caps
Photo frame with a picture of the child in it
Whistles and flags
Key chain
Trading cards with cars or famous drivers
Race streamers and banners