If you got some 'Crafty Kids' then this craft party theme could be a real winner.
In my experience a craft birthday party theme is more popular with the girls and it is easier for you if the kids are little older such as 8 years and upwards.
However it is always popular and who knows you might have a future little Van Gogh amongst you!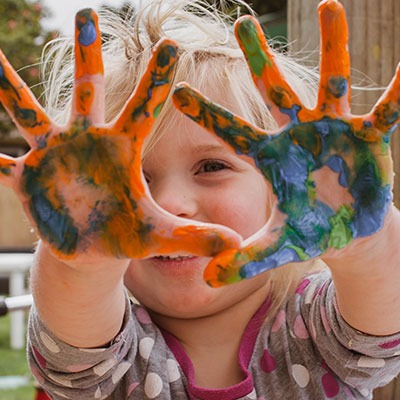 I think that if you are having one of these parties then you should try having a go at making your own party invitations. Get creative to give the kids an idea of the things that you might do at the party.
Ribbon Cards
Make a card out of colored craft paper. Punch holes in it and then thread with ribbon either around the edges and then write on the party details.
Colorful Rainbows
Make a card in the shape of the rainbow. Color and write your message on the reverse.
Artist Easel
Make the invite in the shape of an artists easel and write the details on with paint and using a very thin paint brush.
Not crafty...No problem
Just use card making software on your computer or use craft card decorated with stickers or stencils.
Depending on how many kids you have coming, set up various craft activity corners. Also decorate the room to give it a crafty feel. Ideas could be:
Hang up posters of famous artists and famous pieces of art.
Create craft stations and have a big easel or chalk board at each area saying what the activity is.
Create a big "Welcome to the Studio" sign to place over the entrance to the party
Birthday Mural - Place a large length of craft paper on a wall and get the kids to sign and draw a picture for the birthday child. This makes a great keepsake for later and can be put on his/her bedroom wall after the party.
Colored Footprints - Make footprints out of colored craft paper and attach them to the path leading to the party or place them inside leading to the different party rooms. You could also make hand prints and place these on the doors that the kids are allowed to enter.
Photo Shoot - Get a large empty picture frame and place a chair behind it. Have the kids sit on the chair so they are centered in the frame and take their photo.
Tip: Make sure that you have an area for placing finished art work and do name each piece.
CRAFT PARTY GAMES & ACTIVITIES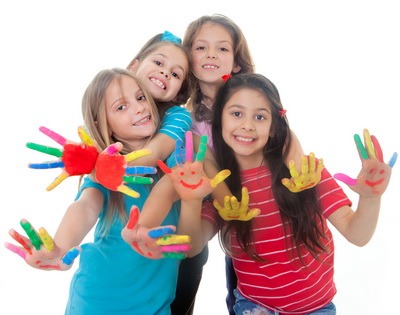 Use a plain white paper tablecloth on the party food table. Scatter around lots of crayons so the kids can draw on the tablecloth. Choose bowls and utensils using the primary colors (red, yellow and blue). Make food name labels and give the food creative names such as:
Glitter Pompoms - Colored marshmallows, dipped in chocolate and then covered in edible fairy dust.
Rainbow Juice - Fruity cocktail decorated with cocktail umbrellas
Creative Cookies - Hand decorated biscuits
Palate-able Pizzas - Large round pizzas with their favorite toppings.
Dazzling Donuts - Donuts covered with icing and sprinkles
Artists Palate Cake - Prepare a basic round chocolate cake using a packet cake mix. Using a cookie cutter, press out three holes where the fingers would be on a palate. Cover cake with white or brown frosting and then when dry add further splodges of colored icing to resemble a paint effect. Lay on a paint brush for effect and voila a simple and easy artists cake.
Party favor ideas might include:
Pens, pencils, paints etc
Craft kits
Berets
Small bags of polished stones
Stick on gems, stickers, nail art
Hair braids, crazy hair foam
Sketch pads and pencils