EASY CHRISTMAS CRAFTS FOR KIDS
Easy Christmas Crafts for Kids to make. Christmas Crackers, festive napkin rings, and Christmas candle crafts.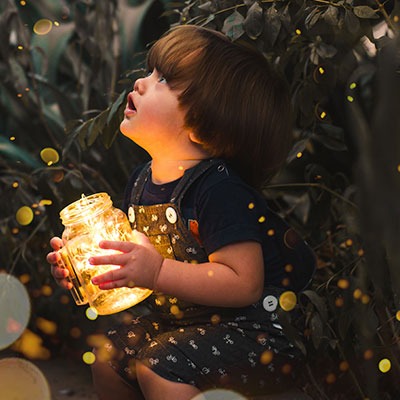 This is the first of 3 easy Christmas crafts for kids. They will get lots of enjoyment creating these crafts.
This Candle Christmas Craft for kids is easy and fun and will keep them occupied for ages.
You can also try different colored candles, like red and/or green along with the gold to make it really colorful.
If you make the candles varying sizes and colors, they look lovely assembled on a mantelpiece or table but just remind the kids that they are not for lighting!
Skill: Easy
Time: 30 minutes (maybe longer if the kids are having fun!)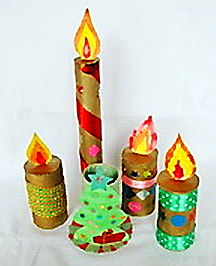 YOU WILL NEED:
Cardboard rolls (like you get in paper towels)
Newspaper
Plain card
Craft Knife (get an adult to use this)
Card, ribbon, sequin, glitter etc
Glue
Colored Marker pens
Gold spray paint or liquid markers
INSTRUCTIONS:
Place one end of a cardboard roll on the plain card and trace round the end to create a circle. Cut out the circle and then using a craft knife, cut a slit in the middle of the circle. The slit is where you will insert a flame later. Glue the circle to one end of the cardboard roll.
Cut another circle from the plain card but this time; make it a couple of inches bigger than the previous circle. Glue this to the other end of the candle. This circle will form the base and will stop the candle toppling over.
Protect your work surface with plenty of newspaper. Spray paint the cardboard rolls and allow to fully dry.
Using the glue, ribbon, sequins, glitter etc, decorate the outside of the candles.
Cut out a flame shape from the card making sure you add a little tag flap at the base of the flame. Color the flame in fire colors and then insert the tag flap into the slit you previously created at the top of the candle.
Group the candles together on a tray or place as a centerpiece on your table or on your mantelpiece.
Warning: Don't place these cardboard candles near real flames as you might cause a fire.
Kids will love making and decorating these Christmas candles. The younger kids might need some help but they will have a lot of fun.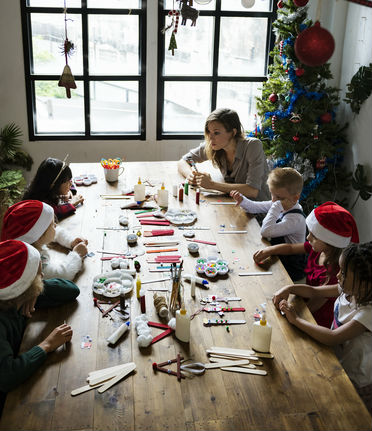 MORE EASY CHRISTMAS CRAFTS FOR KIDS
I've been making this homemade Christmas cracker craft for years. They are fun and easy to make and so much cheaper than buying one. The best bit is choosing what to put inside them -  fun gifts, silly gifts, personalized gifts and so on.
And if you are having a Christmas party then these Christmas Crackers make a great craft activity.
Skill: Medium
Time: 30 minutes
YOU WILL NEED:
Tissue or crepe paper.
Cardboard tubes (like you get from paper towels)
PVA glue and brush
Glitter, tinsel
Small gifts
Cracker snaps (optional)
Scissors
Ribbon
Christmas cards or items to decorate your cracker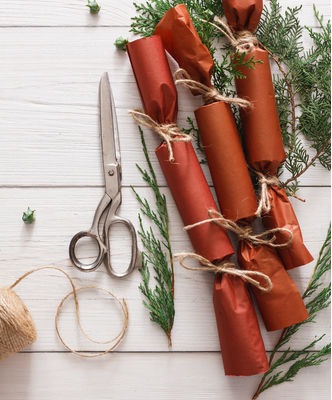 INSTRUCTIONS:
Cut the tissue (or craft) paper so that it is 20cm (8 inches) longer than the cardboard roll and wide enough to roll round it with a small overlap.
Lay the cardboard roll in the center of the paper. Place a thin line of glue along one of the long edges of the paper and then roll it up so that it is well secured around the cardboard roll.
Optional : Insert a cracker snap through the middle of the cardboard roll making sure that both ends of the cracker snap are poking out of the cardboard roll. Then feel where one the end of the cardboard roll is and pinch in the paper like you would round a sweet. Tie it with a ribbon.
Now pop a small toy/candy/gift of your choice into the open end of the cracker and then secure the other end as you did above.
Decorate the outside of your cracker with glitter, tinsel and small images cut out from old Christmas cards.
Place your crackers on the tree or round the dinner table.
Do you know of any easy Christmas crafts for kids to make? Let me know.
EVEN MORE EASY CHRISTMAS CRAFTS FOR KIDS
These festive Christmas napkin rings couldn't be simpler to make. They look so cute on the birthday or Christmas table and you can personalize them so they make a great gift too.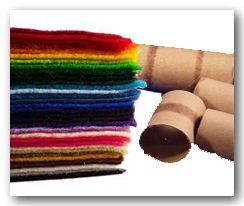 This would make a great party activity for the kids once everyone arrived. Once they are made the kids can use them when they eat their party food.
With a little guidance from you they could make faces, animal heads and even draw their favorite character and glue it on the ring.
Skill: Easy
Time: 30 minutes
YOU WILL NEED:
Cardboard Paper towel tubes
Craft knife (adult use only)
Colored felt
Craft Glue
Glue on sequins and other accessories
Napkins
INSTRUCTIONS:
Using the craft knife, cut the cardboard paper towel tubes into 5cm lengths.
Cut out some lengths of felt so that they are long enough to wrap around the outside of the napkin rings and wide enough to cover the ring. Brush the felt with glue and stick to the napkin rings.
When fully dry, decorate the outside of the napkin rings with accessories or write on people's names with fabric paint.
Place a napkin inside each one and enjoy your meal!
If you can keep the kids attention long enough, have them make 2 Christmas napkin rings and they can use one for the party and you could put the other in their party bag. They will be able to show their parents and be very proud of what they made.
These easy Christmas crafts for kids will keep them busy for a while. Don't for get to check out my other Christmas craft ideas to make some Christmas ornaments.