Get ready to groove with this super fun and active Kid's Dance Party Birthday ideas.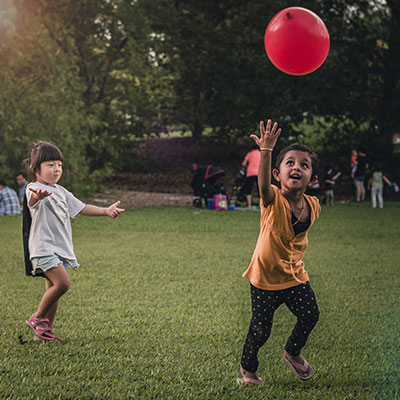 Depending on your child's character and age you might find a kid dance party works best with inviting only single sex friends and you could include a sleepover as well.
The main thing to remember for a kid's dance birthday party is to use your discretion and make the party age appropriate. Discuss party plans with your child beforehand, let them choose the music and let them make most of the decisions if they are old enough to, but with your guidance.
Your kid's dance party invitations could go something like this:
Invitation
It's funky disco time and this is a one-off special party invitation for a special birthday.
Get on your dancing gear and meet at : Funky Fred's Club (you could make up a name here using the party child's name) Doors open at: (time of party)
Date :
Admission by invitation only
CD Invite
Buy some cheap CD record-ables and write the party instructions on the label side. Record a few of the party hosts favorite songs on the CD or alternatively you could record the party details onto the CD using your best DJ voice!
Fluorescent Invite
Instead of buying CD's, get some fluorescent colored CD jewel cases and use printing software to make insert labels with the kids dance party details. Inside the jewel case you could insert an entrance ticket for the party in the shape of a CD saying "One night only. Admit One".
Song Choice Invite
Insert a song request form with the invitation and allow each kid to request three songs. Ask them to return it to you in advance of the party. This helps you or the DJ to plan the party music.
Song Sheet Invite
Write the kids dance party invitations on sheet music so that it looks like song lyrics.
KID'S DANCE PARTY COSTUMES
You might no really need costumes but at the same time you could have a color theme and ask the guest to come dressed in those colors. Hot colors could be "pink and black" or "neon" or even " silver and gold". Alternatively you could ask everyone to come dressed in funky dance costumes and you could give a prize for the best costume.
For those kids who forget to dress up, have a few accessories available to hand out such as neon necklaces or bracelets or colored hair spray.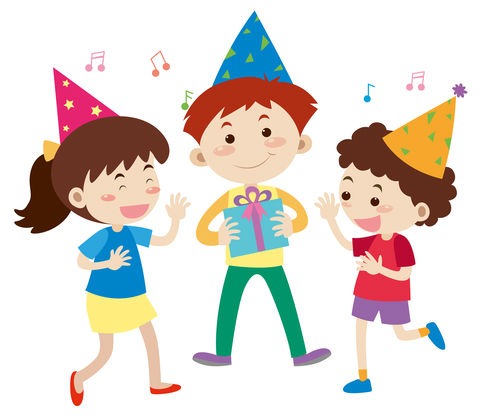 Think of the image that you want to create for the kids dance party and then buy items to match that image. Do you want the party room to look:
Retro with lots of brightly colored accessories.
Cool-modern. Stick to two or three basic colors such as black and white.
Smoky underground using dark colors with subtle lighting.
Specific color theme.
Keep room furnishings to a minimum so that there is lots of dance space. Remove rugs and carpets if possible.
Hang colored streamers from the ceiling or put up a balloon net.
Scatter large cushions and bean bags in a couple of corners rather than using bulky chairs
Have a kids dance party DJs corner. Test all equipment beforehand and make sure that there are no trailing wires. Or why not hire a DJ who can provide all the equipment for you.
Be creative with the lighting. Use Christmas fairy lights, neon or lava lamps and the odd spot light with a colored bulb inserted or try this PARTY TO GO LIGHT SET.
NB Avoid strobe lights or check with the other parents first? as they can cause epileptic fits in some kids.
Use a FOG MACHINE to create the special smokey atmosphere.
Line the walls with silver foil or black plastic sheeting.
Use fluorescent poster board/card to create shapes and stick them to the walls/
Cover the windows with brightly colored sheets of cellophane
Hang a revolving disco ball from the ceiling.
Create an kids dance party entrance to the disco room with a foil curtain or a disco bead curtain and hang fairy lights around the doorway
Set up a bar in one corner and have an adult dress up as the barman. Pin up a non-alcoholic cocktail or drinks menu and serve in colored glasses with fancy straws. My personal favorites are these FLASHING LED CUPS which look really cool in the dark.
At the entrance to your house, lay out a red carpet and put up some fairy lights. Set up a big chalk board with written details of the DJ or band
Place a 'Bouncer' at the door who can collect the tickets as the kids arrive for the kids dance party.
Get those dancing feet out as I have lined up some great games and activities that will have the kids swinging and singing to the beat.
Nibbles and finger foods work best and make sure that you have a lots of drinks available.
Mini burgers and Hot Dogs
Chips and dips
Nuts and nibbles
Chicken and chips served in individual baskets
Sparkling fruit punch using fruit juice and soda water. Serve in plastic bubbly glasses and decorate with fruit pieces and swizzle sticks
Make up fancy names for the drinks such as "Funky Fizz", "Groovy Grape Goddess" or "Shakin' Shakes".
Get the kids to make their own ice cream sundaes. Have all 'the bits' lined up on the drinks bar and let them use their imaginations.
Make a rectangular cake and ice it to look like a juke box or make a round cake to look like a CD.
DANCE PARTY FAVORS AND PRIZES
Favor ideas might include:
Anything shaped like a musical instrument – key rings, earrings, notebooks.
CD's
Posters of pop stars
Glow in the dark or neon items
"Cool" sunglasses or hats
Here is a great page for Amazon Music Favors
. From Key chains, to Cymbals, Maracas, inflatable guitars, music pencils and lots more!