KID'S MAKEUP PARTY IDEAS PAMPER YOUR GIRLS
A kid's makeup party is so simple to plan and it can almost run itself.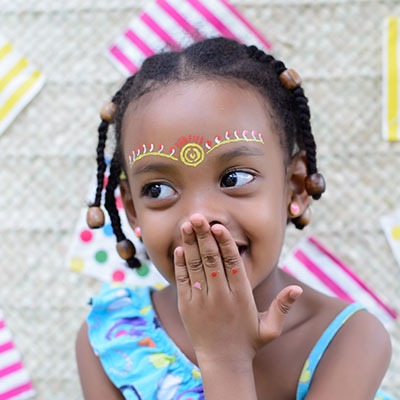 I know some parents aren't into young girls wearing makeup but a it isn't just about mascara and lipstick.
It could be about nail painting, hair styling, skin pampering and just making the kids feel good about themselves.
I know I've geared this to girls but if the boys want to join in then why not! The kids can really let their imagination run wild and it allows them to experiment with changing their 'look' and to really let their hair down but with your guidance.
This kid's makeup party theme is best suited to young teenagers but younger kids will have an equally fun time.
KID'S MAKEUP PARTY INVITATIONS
Making the makeup party invitations is pretty easy and below are some ideas to get your started.
Cut out lots of pictures from beauty magazines and make a collage on the front of plain invitation cards.
Be sneaky and get parents of the guests to give you a photo of the guest. Glue the photo to the front of the invite with the word BEFORE written below and on the inside, place a blank oval paper shape for the guests to design their own AFTER image. You can use these as a guide for the invitations.
Place the kid's makeup party invites in cheap cosmetic purses picked up from bargain stores.
Or  you could buy ready made kid's makeup party invites.
A girl's makeup doesn't really require anything special as a costume. You could ask the kids to come dressed in their causal clothes and they could bring a special outfit if they want for the 'after photo' shoot.
Make a kid's makeup party wardrobe area in the same room. Do this by raiding your own wardrobe and scouring the charity shops and garage sales for cheap clothing and accessories including belts, scarves, jewellery and other accessories. Remember one persons trash is another persons treasure and you'll be amazed at what you can find. Have the clothes hung up, washed and ironed. NB take into account the different sizes of the guests.
Don't forget to have a changing area where the kids can change in privacy. And don't forget to have a big full lengths mirror!
You could also ask the kids to bring a bath robe and their own hairbrush which are vital accessories for a girl's makeover.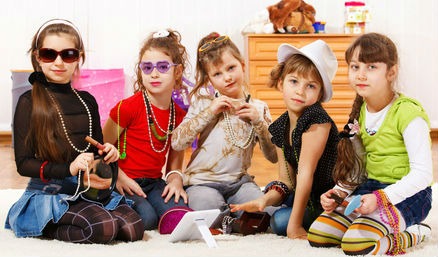 For the makeup decorations, think glamour and glitzy and you can't go wrong.
Entry Sign - Have a big sign on your door or gate to the kid's makeup party saying 'Welcome to X's Beauty Salon'
Color Theme - Decide on a color theme. My young teenage daughter Ellie has now decided that pink is 'not in' after having dreamt and breathed it for the past eight years. So for now it is purple and gold, black and white or pastel shades.
Beauty Stations - Set up different beauty station room(s) such as hair, nails, cosmetics, wardrobe, accessories. Make a big sign to put over each area. Don't forget the accessories such as towels, hair spray, hair ties, tissues and all the important makeup remover and wet wipes
Beauty and Hair Pictures - Cut out lots of beauty, hair and fashion images from magazines and stick to large craft card and place on the walls around the room. If your pictures are small, no problem as you can make a collage.
Mirrors - Have lots of mirrors around the room. All makeover beauties want to admire themselves!
Balloon Surprise - If using balloons, put a small accessory inside such as hair ties, stick on jewels, earrings etc and them blow up. If you can, put them in a big balloon net suspended from the ceiling. The kids can pop them later to get their balloon surprise gift.
Lighting - Think about the lighting. If you are going to have a catwalk fashion show afterwards try and get hold of some spotlights or just use ordinary desk lamps strategically placed.
Hair styling and beauty magazines - Have lots of hair styling and beauty magazines on a table so that the kids can browse for ideas.
Cat Walk for the Fashion Show - Make a Cat Walk for the Fashion Show once the kids have been pampered. Place a floor length curtain over a doorway or create and then place a sheet or carpet runner on the floor as the walkway. The beauties can emerge from behind the curtain and strut their stuff.
There are tons of makeover games you can play. Check out the large list of games and activities I've come up with. From "Spin the Nail Polish" to "Pass the Blusher" and so much more.
Cosmetic Canapes. The kids might be more interested in the makeover and not smudging their lipstick so small bite sized finger food is perfect. Top small crackers or bread rounds with cheese, spreads and pate. Make it look grown up using decorative garnishes.
Blushing Bagels. Top or fill bagels with their favorite fillings and then place a slice of tomato on top.
Jewel Cookies. Make biscuit dough using a packet mix. Roll out and cut into rounds with a cookie cutter and place on a baking sheet. Using a smaller cookie cutter, remove the center of each cookie and replace with a hard boiled sweet. Bake in the oven and when cool remove carefully from the tray. The sweets will have melted to form a lovely jewel center.
Ruby Tomatoes. Dig out the center of small cherry tomatoes. Using an icing bag, fill with cream cheese flavored with chopped chives.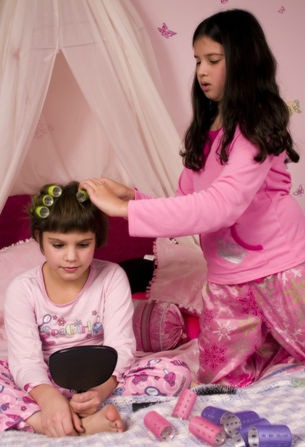 Pink Fizz. Add a dash of pink food coloring to lemonade. Decorate with paper umbrellas and colored bendy straws. Or make pink ice cubes with red currant juice and then place into glasses and top with clear lemonade.
Star Studded Fruit Platter. Make a large fruit salad using lots of bright colored fruits such as strawberries, cherries, oranges and grapes. Top with slices of star fruit.
Mirror Cake. Prepare a basic chocolate cake using a packet cake mix. Make a round cake the size that you want and when cool place a round mirror in the center of the cake. Decorate the cake with frosting and then place candles around the mirror. When lit they will reflect in the mirror and it will look truly dazzling.
Below is a girl's makeup cake sent in from one of our viewers that would be a lot of fun to make.
I made this makeover cake for my daughter's 8th birthday.
Since the theme was 'girls dressing up', I made these colored chocolates candy molds and placed them on the cake.
After the cake was cut, each girl got a slice of cake along with a molded chocolate they liked. I had a purse, lips, lipstick, comb, sunglasses, tiara, different colored boots that were placed on the wall of the cake and "GIRLS RULE".
This makeover cake was loved by all girls!
-Sughra Arif