MAGIC BIRTHDAY PARTY THEME
This magic birthday party appeals to all ages, boys and girls, so it's a great party theme that just needs a little magical fairy dust to put it all together. So click your fingers and here we go...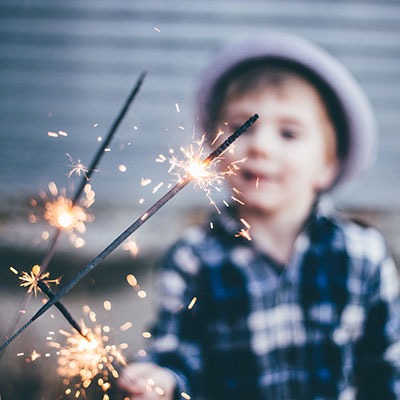 MAGIC BIRTHDAY PARTY INVITATIONS
Rabbit In A Hat Invite
Cut out a rabbit using white craft paper and write the birthday party details on it. Cut out 2 identical black hats also from craft paper. Glue the edges together apart from the part where the head goes. When dry, place the rabbit inside the hat so that the ears are just showing. The kids then have to 'pull the rabbit out of the hat' to read the invitation.
Disappearing Invite
Write the magic party details on white paper using a white crayon. Send out the invites and include a paintbrush and a small pot of watercolor paint. Guests have to paint over the invite with the paint in order to reveal the message....magic!
Magic Wand Invite
Write the invitations using a white crayon on pieces of black paper.  Roll up the paper to resemble a stick and then glue some white paper on each end so it looks like a magic wand.
When the guests arrive, sprinkle them with a pinch of 'magic' glitter and if you like give them each a special magic party accessory such as a black magicians cape.
You can make a cape quite simply out of a square of black material. Fold over a 1" seam along one edge and sew it down. Then thread a piece of ribbon through the folded section so that the kids can tie it loosely round their neck.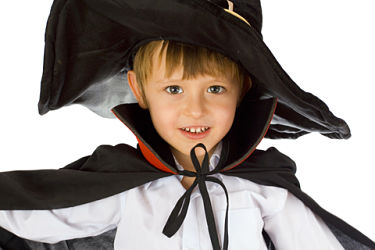 MAGIC BIRTHDAY PARTY DECORATIONS
Make an extra large playing card from some strong card and hang it on your gate or door to welcome the magic party guests.
Cut out and color magic symbols such as stars, wands, black hats and rabbits. Hang around the room and from doorways.
Create a mystical atmosphere. Make a table centerpiece using a large bowl filled with colored water and dry ice.
No magic party is complete without a magic stage. Dedicate one corner of the room to be the stage. Hang a black sheet on the wall as a backdrop and pin on some stars.
Create a magicians table and on it place some magic items such as a black hat, wand, toy rabbit and so on.
Guess Who
Draw a funny picture of one of the other guests, using a white crayon on white paper. The pictures are then mixed up in a large hat. Each guest then pulls out a picture, colors over it with water paint and then has to guess who the picture is of and who drew it. Give a prize for a correct answer.
Magic Tricks
Write or print instructions for a selection of simple magic tricks on individual pieces of paper. Give one to each guest (including props if necessary) and give them a set time to perfect their magic trick. Get the kids to perform their trick on the stage.
Magic Wand
Get the kids to make their own magic wand from dowels decorated with colored ribbon, glitter, paint and stickers.
Solve The Puzzle
Set up a selection of those infuriating wooden or metal puzzles which you often find on people's coffee tables! See who can solve the most.
Real Magician
No magic party is complete without a few tricks. Maybe you have some up your sleeve or what about great old Uncle Albert?! If not, consider hiring a magician.
MAGIC BIRTHDAY PARTY GAMES
I've created a separate page of MAGIC PARTY GAMES. They are all fun and all have a bit of magic and excitement 🙂
Lay the table up with a inviting concoction of magic food. Give each food a magical name to add that mysterious touch.
Fortune Cookies: You can buy these from Asian supermarkets or if you are keen, you could make your own.
Magic Wands: made from a cheesy pastry dough
Rabbit Cookies and sandwiches: made using a rabbit cookie-cutter
Popcorn Surprise: Prepare individual cups of popcorn for each child and place a small toy at the bottom of each cup before filling with popcorn.
Note: Warn the kids to eat carefully!
Rainbow Cocktail: Make ice cubes using different colored fruit juices. Fill individuals clear cups with lemonade and add a couple of colored ice cubes. Watch the kids faces as the ice begins to melt!
MAGIC BIRTHDAY PARTY FAVORS AND PRIZES
My favorite magic party favors include things such as, magic wands, magic tricks and playing cards.