PIRATE BIRTHDAY PARTY IDEAS
Pirate birthdays are one of those birthday party themes that never seem to go out of fashion.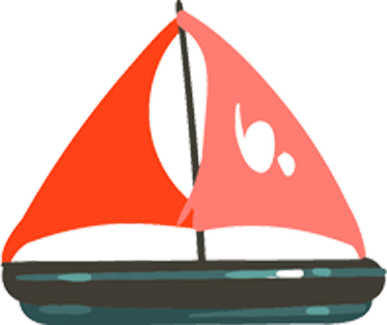 It's very easy to implement a kid's pirate party and suits boys and girls. This is definitely a favorite kid's party theme of mine.
So scroll down for some fabulous kid's pirate birthday party ideas.
Invitation
Ahoy there matey!
Ye be invited for a swashbuckling birthday bash
that's set to ride them seas  and have a Jolly Roger of a time. 
Get set to hoist the rigging at (address)
And me galleon sets sail at (time + date)
Make sures ye wears yer kit
or be prepared to walk them planks.
Sees ya there me hearties..….Aaarrrggh!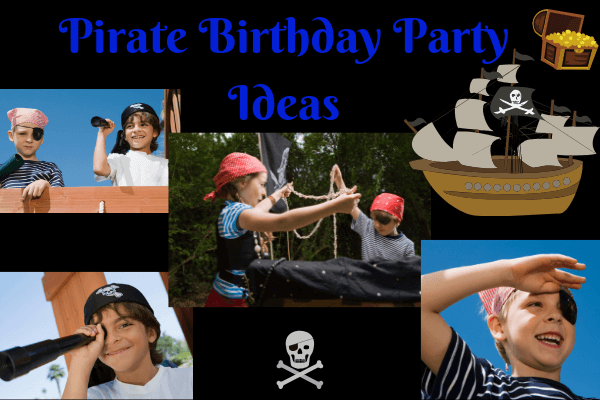 Here are some of my favorite invitations for pirate birthday party ideas:
Put the invites in plastic milk or juice bottles. Soak off any old labels and attach your own picture of a skull and crossbones.
Soak plain white paper in coffee. Let dry and then carefully burn round the edges. Write on your party instructions using black ink, roll up in a scroll and seal with a blob of red play-dough.
Give each party guest a pirate name on their invite such as Captain Jake Sparrow, Bootstrap Bill, Peg Leg Pete, First Mate XXX, Blackbeard XXX, Jolly XXX, Fearsome XXX, One-eyed XXX.
Draw a simple map of your street or neighborhood. Put a X to mark your house then add familiar places and give them pirate names such as Bootstrap Bakery, Hangman's Hill, Jolly Roger Junction.
PIRATE BIRTHDAY PARTY IDEAS FOR COSTUMES
Most kids will no doubt come dressed as pirates but for those who don't, make sure to have a few pirate accessories to hand.
You could either make some pirate hats (video instructions below) or hand out some pirate accessories such as colored head scarves, eye patches and plastic swords.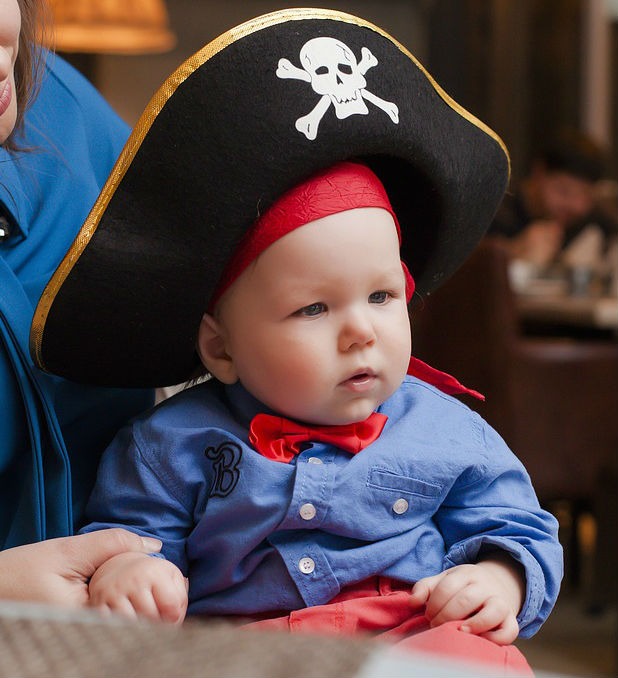 Here are some great ideas for some pirate party decor.
Draw a parrot on strong card. Cut it out and color it and hang it on your gate or door to welcome the pirate party guests.
Put up loads of red, gold, and black pirate balloons. Make some flags and hang above the doorway.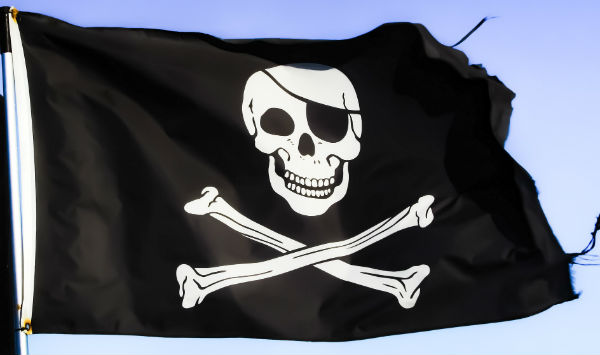 Paint a piece of old wood saying, " Property protected by pirates! Enter at your own risk!" and place by your front door.
Stick posters of pirates around the room.
Write pirate words or phrases on large pieces of white card and stick around the room. e.g. 'Ahoy there maties', 'Shiver me timbers', 'Heave to'.
Cover the party table with a white disposable cloth and draw on large map of the seas. Alternatively grab a Treasure Map Plastic Table cover which is perfect for sailing them sarnies.
Make a center piece for the table by decorating an old lidded box to look like a chest and fill with plastic trinkets and gold chocolate coins.
Crumple up a large piece of paper and burn slightly round the edges. Draw on it a large map of islands and countries. Make up strange place names such as 'Dead-Mans Den', 'Creeky Cavern', 'Bootleg Bay'.
Cover the table with fish netting and place plastic fish and sea shells amongst the party food.
If you are feeling really adventurous, make a cave or pirates den out of large cardboard boxes or wood and bits of netting. Cover with a large piece of tarpaulin or cover with grey paint. Put a torch lantern inside and a few wooden stools or barrels.
With all the pirate party decor listed here it should be a very special party.
PIRATE BIRTHDAY PARTY FOOD
If you are looking for more pirate birthday party ideas then give the pirate food, piratey names. Write the names on paper flags and place them alongside the food.
Golden Nuggets 
Place fried chicken nuggets in a large bowl or basket
Kebab Cutlass 
Thread fruit on plastic sword shaped picks
Sea Dogs 
Serve hot-dogs skewered with a jolly Roger paper flag
Booty Burger 
Hamburgers filled with lettuce and some mustard and/or slices of cheese
Pieces of Eight 
Round Cookies (bought or home-made) and covered with yellow frosting
Galleon Grog 
Any fruit juice served in tin mugs
Island Floaters 
Milk shakes or lemonade topped with a scoop of ice cream
Pirate party cake 
Make the pirate party cake using a Pirate Ship Cake Pan.
By: Samia (Sydney, NSW, Australia)
Here are some pirate party cupcakes send in from one of our visitors.
I made these cute pirate party cupcakes for my nephew's 1st birthday party. They were a hit with the adults as well 🙂
I used a vanilla base cake mix for the actual cupcakes and used plane white fondant for the base of the pirate face.
Some cupcakes had licorice straps for the pirate hat and the remainder were just drawn on using edible icing ink.
This is awesome for pirate birthday party ideas.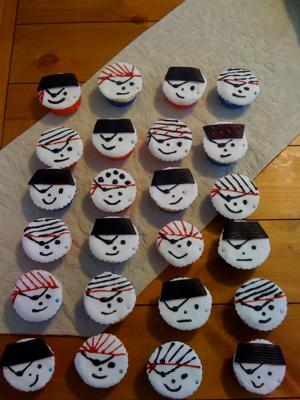 PIRATE BIRTHDAY PARTY FAVORS
Pirate party favors could include:
Small pirate figures
Pirate tattoos
Pirate swords, hats and eye patches
Inflatable parrot
Golden pieces of eight
Necklaces, bangles and trinkets