This Space Party Theme is going to take the kids to a new dimension!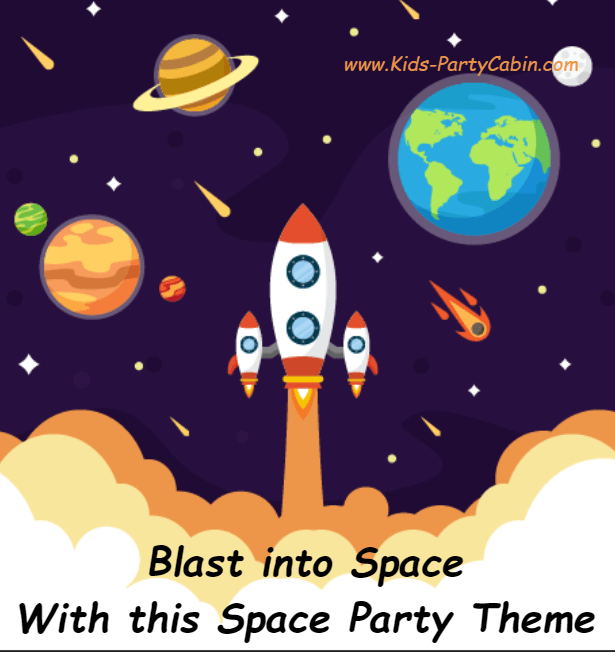 Venture to the Black Hole, run rings around Saturn and maybe ride the Star ship Enterprise as they shoot their way into space.....
A space birthday is one popular kid's party theme so read on and I will show you how to prepare it with lightning speed and ease. OK fasten those seat belts...three, two , one, BLAST OFF!
Need some cosmos decorations? Click here for some great ideas.
SPACE PARTY THEME INVITATIONS
Your space party theme invitations could go something like this:
Invitation
Calling astronaut X
You have been selected for a very special mission on the Starship Enterprise
Your Mission is to help Captain X celebrate his 8th Birthday.
Countdown will begin at exactly: 15h00 on 18th October 2012
On arrival please report to Mission Control at: Address
Here you will be given your party itinerary
RSVP to the Mother Ship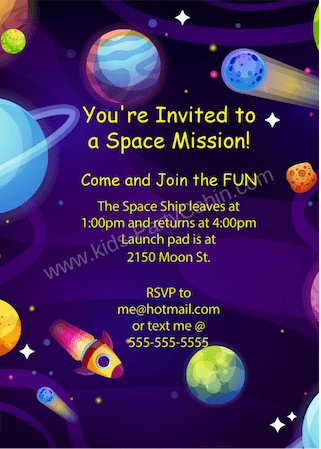 Cosmos Shuttle Ticket Invites
Design the space theme invites to look like tickets for a space shuttle ride at the NASA launch site. Include a ticket, boarding pass and a brochure of the destination.
Solar System Invites
Download and print off a map of the solar system. Place an arrow on earth saying "YOU ARE HERE" and on the reverse write the event details.
Rocket Blastoff Invites
Create a rocket template out of cardboard and use it to trace some rocket invitations on craft paper. Glue on a door and have the event details written inside the door. Attach some glow in the dark stars for decoration.
Your birthday invitation wording can be anything so be creative and see what you come up with.
Rocket Launch
Method 1: Fill a small plastic film canister (the white ones work best) with one teaspoon of water. Quickly add one Alka-Seltzer tablet, put the lid on and place the canister on the floor with the lid side down. STAND WELL BACK. Wait about 10 seconds and whoosh! Your rocket should fly into the air.
Method 2: Put a small amount of baking soda (make it slightly moist with a few drops of water) in the dip on the inside cap of the film canister. Place a dessert spoon of vinegar in the canister and replace the lid taking care the baking soda doesn't fall out. Place the canister, lid side down on the ground and stand back. STAND WELL BACK. Wait a few seconds and then watch it shoot into the sky.
Create a Jet Pack
Beforehand collect as many empty cereal boxes as you have kids. Cover with plain black paper or silver foil and attach 2 pieces of elastic on one of the larger sides so as it resembles a backpack. Have the kids decorate their own jet pack with silver and gold stars and stickers. They can use the jet packs to store any treat and prizes they win during the event.
Personalized Moon Rocks
Collect some irregular and jagged shaped rocks. Allow the kids to personalise them with paint. They could paint them in random colors, put their names on or draw creatures from outer space.
Solve an astronomical mystery
DIY escape room games are the perfect party activity. They're fun, they engage everyone, and they're easy to prepare, run, and clean up (especially if you purchase a printable escape room kit).
'The Disappearance of Mr George' places your party investigating the mystery of a missing person, Mr George. Can you crack his space-themed puzzles and solve the mystery before it's too late?
This printable escape room game is super easy to run for your party and scales to any number of players (simply divide them into groups and print off one copy of the game for each group). Just download the game, print it off, and play.
Check it out for yourself here.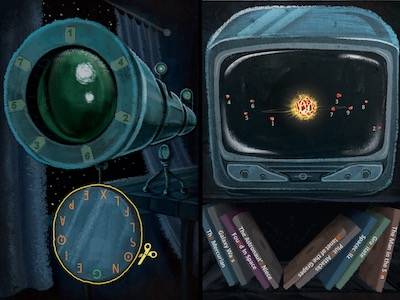 FREE PRINTABLE COLORING PAGES
Click on the image below for free printable cosmos coloring pages. You will need the free Adobe reader to view and print these free pages.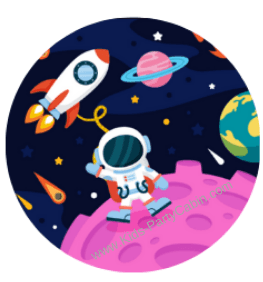 Decorate the table to match your color theme e.g. silver, white, blue etc and then place balls of scrunched up silver foil among the food plates to resemble moon rocks. Suspend flying saucer paper plates from the ceiling. Here are some fun theme food ideas which I have given spacey names too.
Moon Rocks - Mini meat balls on skewers
Flying Saucers - Pizzas
Planet Burgers - Hamburgers with all the fillings
Re-hydration Fluid - Juices and soft drinks
Astronaut Ice Cream -  How cool is this! Check them out on Amazon
Cosmos Shakes - Flavored Milk shakes
Fizz Bomb Shakes - Pepsi or coke with a scoop of ice-cream floating on top
Planet Cupcakes - Cupcakes decorated with colored frosting – yellow for Saturn, Venus and Pluto, orange for Mercury, red for Mars, brown for Earth, green for Uranus
Shooting Stars - Star shaped cookies.
Space Candy - Find space named candy such as 'Mini Mars Bars', 'Sherbet Spaceships'
Mini Moon Rocks - Caramelized popcorn
Planet Cake - Prepare a basic cake using a packet cake mix. Place the mixture in a basin mould and bake as per the instructions. When cooked and cooled, cover with brown or green frosting. Make the surface look a bit rough rather like the surface of the moon. Dot with small plastic astronauts figures and stick a flag on top with the birthday child's name and age. A quick and super cool cake!
SPACE PARTY THEME FAVORS AND PRIZES
Space party theme favor ideas might include:
Posters and pictures of space
Mini alien characters
Rocket Balloons
Sherbet Spaceships
Glow in the dark planets and stars
Space Pens - the ones that write in water and upside down
PRINTABLE COSMOS THEME COLLECTION
Having a Space Party? Then you need this printable Cosmos Collection or this printable spaceship invitation.
This product is not currently available. Sorry for the inconvenience.